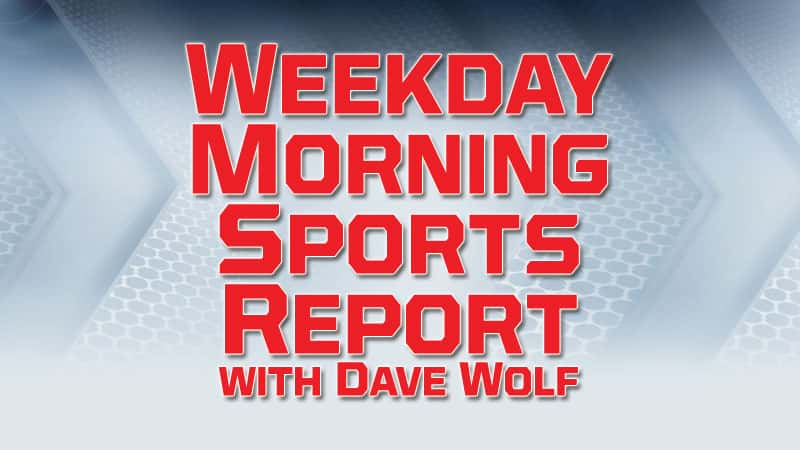 95.7 & 1400 WSJM Sports @wsjmsports wsjmsports.com Thursday, February 02, 2017
NBA – National Basketball Association
Last Night
Detroit Pistons 118, New Orleans Pelicans 98
Chicago Bulls 128, Oklahoma City Thunder 100
Indiana Pacers 98, Orlando Magic 88
Pistons 118, Pelicans 98 – Caldwell-Pope scores 38 in Pistons' 118-98 win over Pelicans
Kentavious Caldwell-Pope scored a career-high 38 points, leading the Detroit Pistons to a 118-98 victory over the New Orleans Pelicans on Wednesday night. Tobias Harris added 19 points and Andre Drummond 17 for the Pistons, who ended an eight-game losing streak to New Orleans. Detroit had lost three in a row overall. New Orleans blew a nine-point lead in the third quarter and lost its third straight and fourth in five games. Anthony Davis, who scored a career-high 59 points last February at Detroit, had 31 points and 12 rebounds, while Jrue Holliday added 22 points and 11 assists.
Bulls 128, Thunder 100 – Butler scores 28 and Bulls rout Thunder 128-100
Jimmy Butler scored 28 points to help the Chicago Bulls rout the Oklahoma City Thunder 128-100 on Wednesday night. Dwyane Wade had 18 points and seven assists for the Bulls, who shot 60 percent from the field overall and 68 percent in the second half. Russell Westbrook had 28 points and eight assists and Jerami Grant scored a season-high 15 points for the Thunder, who lost their third straight overall and had their five-game home winning streak snapped. It took until the fourth quarter for someone other than Westbrook to reach 10 points for the Thunder. Oklahoma City shot just 38 percent from the field and made 10 of 37 3-pointers. It was the second-worst loss of the season for Oklahoma City, behind a 34-point loss in Memphis.
Pacers 98, Magic 88 – Pacers hold on to beat Magic 98-88 on the road
C.J. Miles scored 16 points, Glenn Robinson III added 14 and the Indiana Pacers held on to beat the Orlando Magic 98-88 on Wednesday night. The Pacers used their smaller lineup and timely 3-point shooting to keep the struggling Magic from rallying. Orlando didn't have an answer for Miles' 3-point shooting, including a trey that pushed the lead to 96-88 in the final two minutes of the fourth quarter. Orlando moved within five points a few times in the final period but could not come any closer. Jeff Teague had 13 points and nine assists and was 8 for 9 from the free-throw line to join six Pacers in double figures. Serge Ibaka led five Magic players in double figures with 20 points. The Pacers have defeated their former coach Frank Vogel four straight times this season and look like a team on the rise. They have won four straight to stay in the Eastern Conference playoff mix.
NHL – National Hockey League
Tonight
Chicago Blackhawks at Arizona Coyotes, 9:00 p.m.
NHL – Blues can coach
The St. Louis Blues have sped up the clock on their coaching change. Mike Yeo has been promoted to the post a few months ahead of schedule following the dismissal of Ken Hitchcock on Wednesday. Yeo was slated to take over when Hitchcock entered retirement after the season. The Blues made the playoffs each of their first five seasons under Hitchcock, advancing to the Western Conference finals last spring. But the team has dropped five of its last six to fall to 24-21-5, tied with Calgary for eighth in the West and just one point ahead of three other teams. Hitchcock is fourth on the NHL's all-time list for coaching victories, one behind Al Arbour of the Islanders. Yeo previously coached the Minnesota Wild to a 173-132-44 record before getting fired 55 games into last season.
NCAAMBB – Men's College Basketball
Tonight
Michigan State at Nebraska, 7:00 p.m. Superhits 103.7 Cosy-FM 6:00
College Football Signing Day
NCAAFB – Michigan – Harbaugh lands top WR Peoples-Jones to fill void at Michigan
Jim Harbaugh moved Michigan's "Signing of the Stars" event from a downtown theater to its basketball arena, incorporating some non-football coaches instead of putting such as Tom Brady, Derek Jeter and Ric Flair on stage with him as he did last year. Why? "To make it more about Michigan," Harbaugh said. Brady, of course, is preparing to play in the Super Bowl. Harbaugh did call on Olympic swimming star Michael Phelps, who took classes and trained at Michigan, to deliver a message that was shown on videoboards Wednesday in front of about 4,000 fans. The Wolverines have to replace a lot of departed players, including Heisman Trophy finalist Jabrill Peppers, one of 10 NFL draft prospects from last year's team. They took a step toward restocking the roster with talent, adding enough highly touted players for Harbaugh to have a second straight recruiting class ranked among the top several in the nation.
NCAAFB – Harbaugh plans to take Michigan's team overseas annually
Jim Harbaugh says he plans to take Michigan's football teams overseas annually. Harbaugh announced Wednesday, after the school's Signing of the Stars event, that an upcoming trip to Italy is the first of many abroad. He says a donor, who requested anonymity, is paying for the trip this year. South Africa, Japan, Israel and either England or New Zealand are countries Harbaugh wants to bring the Wolverines to for practices and educational opportunities over the following four years. Harbaugh says the trips are compliant with NCAA rules because they're part of study-abroad programs and will not include competition. The NCAA announced recently it was banning football teams from combining spring break and spring football as Harbaugh did last year in Florida.
NCAAFB – Michigan State – Andre Rison's son highlights Michigan State's new class
Michigan State is welcoming a familiar name to its football program. Wide receiver Hunter Rison, son of former NFL receiver Andre Rison, has signed with the Spartans. Andre Rison was a star at Michigan State from 1985-88 and ranks second on the school's career list in yards receiving. Michigan signee James Hudson III of Toledo Central Catholic admitted at his signing event that he considered Michigan State. "My mom really liked coach (Mark) Dantonio. She had never met coach (Jim) Harbaugh," Hudson said. "I wanted the Michigan State offer so bad. That was my next dream school after Ohio State. But then Michigan came into the picture."
NCAAFB – Notre Dame – Some calls you just have to take.
Notre Dame coach Brian Kelly was holding his signing day news conference with reporters when his cell phone rang. "Jeremiah?" he said. And walked out of the room. Kelly returned and announced Jeremiah Owusu-Koramoah, a three-star prospect from Virginia, had signed with the Fighting Irish. Kelly and the Irish are coming off a 4-8 season, but they are still in line to sign a top-15 class. The highest-rated members are Brock Wright, a tight end from Texas, and four-star offensive linemen Robert Hainsey and Aaron Banks.
NCAAFB – Michigan State recruit in jail, awaiting bond on signing day
Michigan State recruit Donovan Winter sat in a Florida jail Wednesday while other football recruits across the country signed letter of intent on national signing day. A police report showed the Bishop Moore Catholic defensive end was in Seminole County Jail in Sanford, Florida. on Wednesday awaiting bond and facing charges of burglary of larceny of a firearm. Winter was arrested Monday and is awaiting a $2,000 bond. The three-star recruit verbally committed to Michigan State and was expected to sign with the Spartans on Wednesday. It is uncertain if his scholarship offer remains. Schools are prohibited from discussing unsigned players and Bishop Moore coach Matt Hedrick did not immediately return a call to The Associated Press.
Other signings
Ferris State – Jeremy Burrell – Benton Harbor
Central Michigan – Steven Spenner – Berrien Springs
Hillsdale College – Jon Burton – Lakeshore
Indiana Wesleyan – Hayden Sardina – South Haven
NFL – Colts 2-time Pro Bowl punter announces retirement at age 29
Indianapolis Colts punter Pat McAfee says he is retiring. The 29-year-old two-time Pro Bowl pick made the announcement in a statement on Twitter, thanking fans for their support over the last seven seasons. McAfee wrote that three knee surgeries in four years, the expectation of additional operations in the future and an enticing offer to work for Barstool Sports convinced him to walk away despite having two years and nearly $6 million remaining on his contract. In the post, McAfee says he met with team owner Jim Irsay for 1 hour, 45 minutes earlier this week, and that although Irsay encouraged him to continue playing, Irsay also was supportive of his decision.
NFL – Commissioner says Sin City not a done deal for Raiders
There's no sure thing in Las Vegas, especially the NFL. Commissioner Roger Goodell told reporters at his annual State of the Game address that the league has not made a determination about Las Vegas as an NFL city. Regarding the possible move of the Raiders to Vegas, Goodell said there is "a great deal of work to be done" before that move could happen. Goodell was asked about the Raiders after both casino magnate Sheldon Adelson and a backup financier, Goldman Sachs, pulled out of the stadium deal this week. The league is supposed to decide on the Las Vegas move in March. On the topic of his relationship with the Patriots and owner Robert Kraft, Goodell said he and the Patriots have a "disagreement about what occurred" with regard to the scandal that came to be known as "Deflategate." He added that he still has a "deep and close relationship" with team owner Robert Kraft.
NCAAWBB – Women's College Basketball
Last Night
Central Michigan 64, Ohio 59
Michigan 86, Illinois 70
Michigan 86, Illinois 70 – Flaherty, Gondrezick lead Michigan over Illinois
Katelynn Flaherty had a game high 27 points to help lead Michigan to an 86-70 win at Illinois. Michigan also got 19 points from reigning Big Ten player of the week Kysre Gondrezick as the Wolverines improve to 18-5 and 7-2 in the Big Ten. Brandy Beasley had 21 for the Illini.
Tonight
Indiana at Michigan State, 6:00 p.m.
(7) Notre Dame at Virginia Tech, 7:00 p.m.
MCCAAMBB – Men's Junior College Basketball
Last Night
Lake Michigan College 104, Kellogg Community College 96
Lake Michigan College got a game high 24 points from Brian Harris in a 104-96 win over Kellogg Community college. The Red Hawks battled from 13 points down early to take a four point lead at the half and they never trailed from there. Cortez Moore added 22 points for LMC.
MCCAAWBB – Women's Junior College Basketball
Last Night
Lake Michigan College 92, Kellogg Community College 42
Lake Michigan College ran away with a 92-42 win over Kellogg Community College. The Lady Red Hawks opened the game on a 7-0 run and never trailed. Defensively, they limited the Bruins to just two points in the second quarter. Hailey Maas poured in a game high 25 points for LMC, Kelsee Kinder added 15.
MHSAA – High School Sports
Boys Basketball
River Valley at Lake Michigan Catholic, 7:30 p.m. 95.7 & 1400 WSJM Sports
Girls Basketball
River Valley at Lake Michigan Catholic, 6:00 p.m. 95.7 & 1400 WSJM Sports
Countryside Academy at Michigan Lutheran, 7:00 p.m.
Bridgman at Brandywine, 7:30 p.m.
Bronson at New Buffalo, 7:30 p.m.