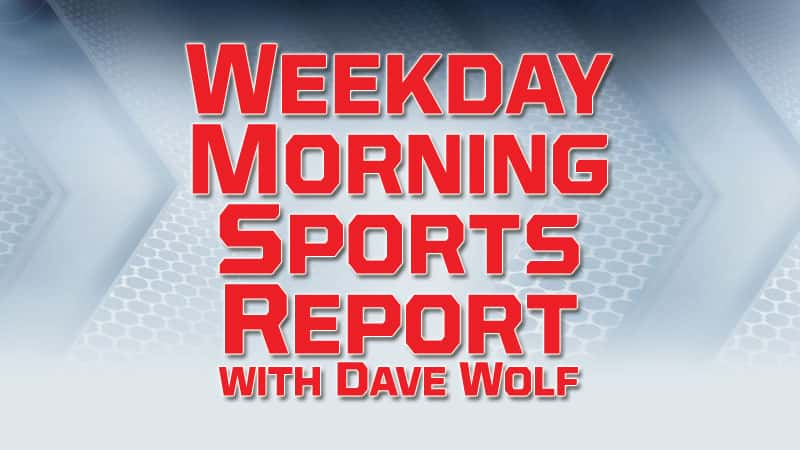 95.7 & 1400 WSJM Sports @wsjmsports wsjmsports.com Monday, February 06, 2017
NFL – Super Bowl LI – NRG Stadium, Houston, TX
Last Night
New England Patriots 34, Atlanta Falcons 28 – OT
Patriots 34, Falcons 28 – OT – Patriots reign as NFL champs
Tom Brady has a record fifth Super Bowl win for a quarterback after the biggest comeback in the game's history, and one of the greatest catches. James White ran 2 yards for a touchdown on the first possession of overtime, and the Patriots came back from 25 points down for a 34-28 win over the Atlanta Falcons in Super Bowl 51. The Patriots drove to the tying score with help from a unbelievable catch by Julian Edelman, who somehow kept the ball off the turf on a diving grab of a tipped pass that bounced off a defender's shoe. James White ran 1 yard for a touchdown, and Brady's 2-point conversion pass to Danny Amendola tied the score at 28-all with 57 seconds left. The Falcons, who lost again in their second Super Bowl, led 28-3 in the third quarter after Matt Ryan's second touchdown pass. Robert Alford had an 82-yard interception return in the first half.
NFL – Tom Brady thinks his Super Bowl jersey has been picked off.
The Patriots quarterback, selected the MVP of New England's 34-28 victory over the Atlanta Falcons on Sunday night, couldn't find his game-worn No. 12 jersey in the locker room after the big win. He told a Patriots equipment manager that he remembered placing it in his locker, adding that "someone stole it." After looking through his bags to no avail, Brady told owner Robert Kraft that "someone stole my game jersey." Kraft told Brady: "You better look online." While Brady walked to the team bus, a reporter asked the quarterback if he had recovered the jersey. Brady said he hadn't and added: "Yeah, it's going to be on eBay at some point."
NFL – Patriots fans take to streets of Boston to celebrate victory
New England Patriots fans have taken to the streets of Boston to celebrate their team's 34-28 dramatic overtime Super Bowl win over the Atlanta Falcons. Hundreds of fans gathered late Sunday night and early Monday morning in Boston Common, a downtown public park. They were dancing, cheering and chanting "Brady." Police also were there to make sure the celebrations didn't get out of hand. There were no immediate reports of any problems and fans were mostly described as being well-behaved. Democratic Boston Mayor Marty Walsh took to Twitter late Sunday to congratulate the Patriots and announce the victory parade, which is scheduled for Tuesday morning. Boston police tweeted their thanks "to all the fans who acted like champions tonight" and wrote that they would see them again on Tuesday.
NFL – Boston mayor: 'Fire up the duck boats' for Patriots parade
The mayor of Boston has ordered the city to "fire up the duck boats" for the New England Patriots victory parade following the team's come-from-behind 34-28 overtime win over the Atlanta Falcons. Democratic Mayor Marty Walsh took to Twitter late Sunday night to offer his congratulations "to the greatest team, the greatest coach and the greatest quarterback of all time." Walsh says a parade celebrating their championship will be held Tuesday at 11 a.m. He says the Pats "have made Boston and New England proud." The Patriots, Red Sox, Celtics and Bruins have all celebrated championships in recent years by climbing aboard duck boats, amphibious vehicles that are normally used to show tourists around town. This is the Patriots fifth Super Bowl win.
NFL – Hall of Famers named
The Pro Football Hall of Fame will add seven more busts this summer. Running backs LaDainian Tomlinson and Terrell (tuh-REHL') Davis are part of the Hall's Class of 2017, along with quarterback Kurt Warner, sackmaster Jason Taylor and kicker Morten Andersen. Cowboys owner Jerry Jones has made the Hall in the contributor's section, while Seahawks safety Kenny Easley was selected as a senior nominee. Taylor and Tomlinson are first-ballot Hall of Famers.
NBA – National Basketball Association
Tonight
Oklahoma City Thunder at Indiana Pacers, 7:00 p.m.
Philadelphia 76ers at Detroit Pistons, 7:30 p.m.
Chicago Bulls at Sacramento Kings, 10:30 p.m.
NCAAMBB – Men's College Basketball
Yesterday
(12) North Carolina 83, (20) Notre Dame 76
#12 North Carolina 83, #20 Notre Dame 76 – No. 12 UNC beats No. 20 Notre Dame 83-76 in relocated game
Justin Jackson scored 16 points to help No. 12 North Carolina beat No. 20 Notre Dame 83-76 on Sunday in a game postponed a day and relocated from UNC's campus due to a water shortage. Isaiah Hicks added 14 points for the Tar Heels (21-4, 9-2 Atlantic Coast Conference), who shot 49 percent and dominated the glass while having six double-figure scorers. V.J. Beachem scored 20 points for the Fighting Irish (17-7, 6-5), who lost for the fifth time in six games. UNC led by 15 midway through the second half, only to see Notre Dame climb back to within 75-73 on Beachem's 3-pointer from the corner with 3:47 left. But Joel Berry II answered with a jumper at the 3:33 mark to start an 8-0 run and turn away the comeback.
NCAAWBB – Women's College Basketball
Yesterday
Michigan 72, Iowa 70
Michigan 72, Iowa 70 – Wolverines rally to stay unbeaten at Crisler
Michigan trailed by as many as 15 points in the first half and overcame a nine-point deficit in the fourth quarter to beat Iowa, 72-70, and remain undefeated at home this season (12-0). The Wolverines were down one with 35 seconds left until a layup by Nicole Munger put them back in front with 20 seconds left. Benton Harbor's Kysre Gondrezick scored 23 points to lead Michigan.
Tonight
(9) Louisville at (7) Notre Dame, 7:00 p.m.
Golf – Matsuyama wins in a playoff
Hideki Matsuyama has successfully defended his Phoenix Open title by winning the PGA event in a playoff. Matsuyama took the tournament on the fourth extra hole, sinking a 10-foot birdie putt on the short par-4 17th to beat Webb Simpson. It was the same hole where the Japanese star closed out Rickie Fowler a year ago. Matsuyama closed with a 5-under 66, parring the final three holes to match Simpson at 17-under.

Golf – Sergio wires `em
Sergio Garcia shot a 3-under-par 69 to close out a wire-to-wire win at the Dubai Desert Classic. The Spaniard had never posted a top-10 finish in his previous seven Desert Classic appearances before finishing at 19-under. That was three strokes better than Henrik Stenson.
MHSAA – High School Sports
Last Night
Ice Hockey
South Bend Riley 3, Lakeshore/St. Joseph 1
Today
Girls Basketball
Kalamazoo Hackett at Buchanan, 6:30 p.m.
River Valley at Covert, 5:30 p.m.