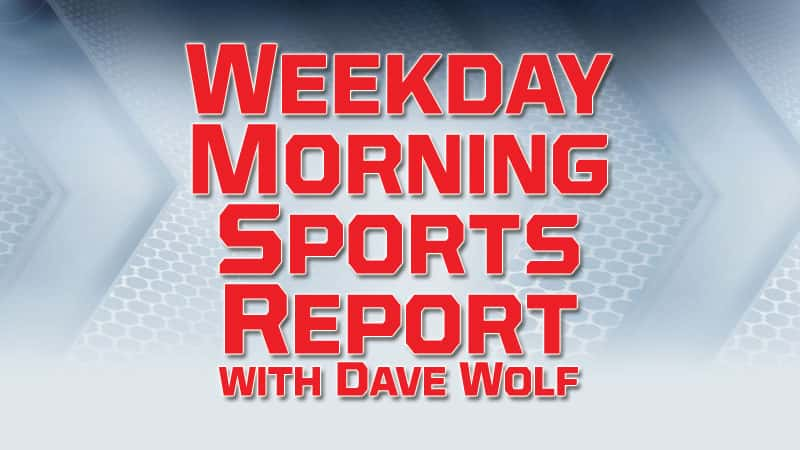 95.7 & 1400 WSJM Sports     @wsjmsports     wsjmsports.com     Tuesday, February 07, 2017
NBA – National Basketball Association
Last Night
Detroit Pistons 113, Philadelphia 76ers 96
Indiana Pacers 93, Oklahoma City Thunder 90
Chicago Bulls 112, Sacramento Kings 107
Pistons 113, Sixers 96 – Pistons pull away in 3rd quarter, beat 76ers 113-96
Andre Drummond had 16 points and 17 rebounds, and the Detroit Pistons pulled away at the start of the third quarter for an easy 113-96 victory over the Philadelphia 76ers on Monday night. Detroit led 55-46 at halftime, then made its first six shots of the third quarter. The Pistons went on to outscore Philadelphia 34-21 in the period and were never seriously challenged after that.  Detroit had seven players in double figures. Marcus Morris led the way with 19 points, and Reggie Jackson scored 14. Jon Leuer, Kentavious Caldwell-Pope and Aron Baynes had 12 each. Jahlil Okafor scored 16 points for the 76ers, who have lost four straight.
Pacers 93, Thunder 90 – Pacers shake down Thunder with 2nd-half comeback
Paul George had 21 points and eight rebounds, Jeff Teague scored 17 points and the Indiana Pacers rallied from an 11-point halftime deficit to beat the Oklahoma City Thunder 93-90 on Monday night.  Indiana has won seven straight games _ its longest winning streak in almost two years. Russell Westbrook led Oklahoma City with 27 points, a season-high 18 rebounds and nine assists, falling just short of his 26th triple-double this season. The Thunder struggled mightily in the second half, giving away a 52-41 halftime lead by midway through the third quarter. The Pacers then went on a 12-4 run to take a 79-72 advantage early in the fourth and never trailed again.
Bulls 112, Kings 107 – Wade scores 31, Bulls blow big lead but hold off Kings
Dwyane Wade scored 31 points, including the final seven for Chicago to help the Bulls hold off the Sacramento Kings 112-107 on Monday night. After the Bulls squandered a 27-point lead in the second half, Wade hit a tiebreaking 20-footer to put them ahead for good, 109-107, with 13 seconds left. Then he stole the inbounds pass following a timeout and went the length of the court for a dunk to make it a four-point lead. Wade added a free throw with a second to play following the second technical foul of the night on a furious DeMarcus Cousins, who thought he was fouled on a 3-point attempt. Cousins was ejected after picking up his 16th technical of the season, a total that triggers an automatic one-game suspension. Michael Carter-Williams had 21 points for the Bulls, and Robin Lopez scored 17. Jerian Grant added 13 points as Chicago won its second straight and third in four games.
NCAAMBB – Men's College Basketball
Tonight
Central Michigan at Ohio, 7:00 p.m.
Eastern Michigan at Toledo, 7:00 p.m.
Western Michigan at Miami (OH), 7:00 p.m.
Wake Forest at Notre Dame, 7:00 p.m.
Michigan State at Michigan, 9:00 p.m.  Superhits 103.7 Cosy-FM 8:00/95.7 & 1400 WSJM Sports (After HSBB)
NCAAMBB – Gonzaga, Villanova, Kansas on top of AP poll after wild week
Gonzaga is No. 1 for a second straight week in The Associated Press college basketball poll following a week in which all but four of the top 10 teams lost at least one game. The Bulldogs (24-0), the only remaining unbeaten team in Division I, received 59 first-place votes from the 65-member national media panel on Monday. Villanova (22-2) moved from fourth to second after receiving the other six No. 1 votes. Kansas, which saw its 51-game winning streak at Allen Fieldhouse end over the weekend, held at third while Louisville jumped from sixth to fourth. Oregon, coming off its impressive win over Arizona, went from 13th to fifth. Baylor, which lost twice last week, dropped from second to sixth. Wisconsin was seventh followed by North Carolina, Arizona and UCLA. Xavier and SMU are the week's newcomers, replacing Notre Dame and Northwestern.  Notre Dame dropped out of the top 25.

NHL – National Hockey League
Tonight
Columbus Blue Jackets at Detroit Red Wings, 7:30 p.m.
NCAAWBB – Women's College Basketball
Last Night
(7) Notre Dame 85, (12) Louisville 66
#7 Notre Dame 85, #12 Louisville 66 – Ogunbowale leads Notre Dame rout of Louisville
Arike Ogunbowale scored 22 points and No. 7 Notre Dame ran past No. 12 Louisville for an 85-66 win on Monday night. The Irish (22-3, 10-1 ACC) used a 22-4 run to turn around an early first-quarter deficit, and led by 22 points at halftime on their way to their sixth straight victory. Lindsay Allen added 15 points and her eight assists moved her past Skylar Diggins into second place all-time at Notre Dame. Jackie Young had 16 points and seven rebounds, and Kathryn Westbeld contributed 14 points for the Irish. Asia Durr scored 31 points to lead Louisville (20-6, 7-4), which has lost two straight. Mariya Moore added 18 points and seven rebounds.
After missing Sunday's loss at North Carolina State, the Cardinals' second-leading scorer and top rebounder, Myisha Hines-Allen, came off the bench against the Irish, but played just one minute in the first half and did not score.
NFL – Super Bowl champs taking a victory lap
The New England Patriots are taking their victory lap. MVP quarterback Tom Brady and company will parade through Boston Tuesday morning following the team's come-from-behind 34-28 overtime win over the Atlanta Falcons in the Super Bowl on Sunday. In typical Boston fashion, players and other team officials will ride in duck boats. Those are World War II-era amphibious vehicles that are popular with tourists seeing the city's sights. Meteorologists are predicting a messy celebration. Rain and possibly some snow are in the forecast, along with the typical chilly New England temperatures. That is not expected to dampen enthusiasm, however. This is the Patriots fifth championship since 2002. The Red Sox have had three and the Bruins and Celtics one apiece since then.
NFL – Super Bowl audience down over recent years
Fox drew an audience of 111.3 million viewers for New England's historic overtime win over Atlanta in Super Bowl 51.   That was a smaller audience than the game has had in the last two years but still ranking among the biggest for a television program in the United States. Viewership for the Patriots' come-from-behind had a relatively modest start when the Atlanta built a 25-point lead. People returned as the Patriots came alive. During overtime, the game had its biggest audience of 117.7 million.
NFL – Brady needs to check eBay
Texas Lt. Gov. Dan Patrick is asking the state's top law enforcement officers to help locate Tom Brady's missing game jersey, which disappeared from the New England Patriots' locker room after the Super Bowl. The Republican said in a statement Monday that Brady's jersey "was stolen" after the Patriots beat the Atlanta Falcons 34-28 at Houston's NRG Stadium, and that city police were already investigating.  Patrick said Texas places "a very high value on hospitality and football," adding: "It is important that history does not record" that Brady's jersey was stolen in the state.  He continued: "Whoever took this jersey should turn it in" since the "Texas angers are on the trail."  Brady said after the game that the jersey was missing and joked that he expects to see it soon in an online auction.
NFL – 49ers officially name younger Shanahan head coach
The San Francisco 49ers have officially hired Atlanta offensive coordinator Kyle Shanahan as their new head coach more than a month after firing Chip Kelly after just one season. The 49ers settled on Shanahan a couple weeks ago but had to wait until Monday to sign him to a  contract because the Falcons made it to the Super Bowl. Kyle is the son of legendary Denver and Washington head coach Mike Shanahan, who's been out of football since leaving Washington's football team three years ago.
Macomb sinkhole not worsened by Super Bowl fans' halftime flushing
Officials feel flushed with success after water conservation efforts prevented Super Bowl fans from adding to problems associated with a suburban Detroit sinkhole. Macomb County public works chief Candice Miller warned Friday that thousands of football fans flushing toilets at halftime Sunday night could overwhelm a broken sewer line blamed for the sinkhole. But she told radio station WWJ everything went OK on Sunday and that she believes efforts to conserve water in the affected communities "made the difference." Crews are building a bypass to get around the broken sewer line in Fraser, but it's not ready yet. The line affects more than 300,000 people in 11 communities. The station says some people held back on flushing and some restaurants used paper plates to curb dishwashing water use.
AHL – American Hockey League
Tonight
Chicago Wolves at Rockford Ice Hogs, 8:00 p.m.
NBADL – NBA Developmental League
Tonight
Grand Rapids Drive at Windy City Bulls, 8:00 p.m.
MHSAA – High School Sports
Last Night
Girls Basketball
Berrien Springs 50, Cassopolis 47
River Valley 25, Covert 12
Tonight
Boys Basketball
SMAC – Games start at 7:15
Lakeshore at Mattawan   95.7 & 1400 WSJM Sports
Battle Creek Lakeview at St. Joseph
Niles at Gull Lake
Portage Central at Kalamazoo Loy Norrix
Battle Creek Central at Portage Northern
Wolverine – Games start at 7:15
Allegan at Dowagiac
Plainwell at Edwardsburg
Otsego at Sturgis
Paw Paw at Three Rivers
Non-Conference/Independent
Vicksburg at Schoolcraft, 7:15 p.m.
Bangor at Brandywine, 7:30 p.m.
Comstock at Kalamazoo Hackett, 7:00 p.m.
BCS
Berrien Springs at Cassopolis, 7:30 p.m.
Buchanan at Centreville, 7;30 p.m.
New Buffalo at Constantine, 7:00 p.m.
SAC – Games start at 7:00 p.m.
Marcellus at Watervliet
Eau Claire at Saugatuck
Decatur at Hartford
Martin at Fennville
Gobles at Lawrence
Girls Basketball
SMAC – Games start at 7:15
Mattawan at Lakeshore
St. Joseph at Battle Creek Central
Gull Lake at Niles
Kalamazoo Loy Norrix at Portage Central
Portage Northern at Battle Creek Central
Wolverine – Games start at 7:15
Dowagiac at Allegan
Edwardsburg at Plainwell
Sturgis at Otsego
Three Rivers at Paw Paw
Non-Conference/Independent
Schoolcraft at Vicksburg, 7:15 p.m.
Bangor at Brandywine, 6:00 p.m.
Kalamazoo Hackett at Comstock, 7:00 p.m.
BCS
Centreville at Berrien Springs, 7:30 p.m.
Countryside Academy at Bridgman, 7:30 p.m.
Constantine at New Buffalo, 7:00 p.m.
SAC
Marcellus at Watervliet, 5:30 p.m.
Saugatuck at Eau Claire, 7:00 p.m.
Hartford at Decatur, 7:00 p.m.
Martin at Fennville, 5:30 p.m.
Gobles at Lawrence, 5:30 p.m.
MHSAA – AP Basketball Rankings
 Boys
 Class A            
 School                                      Record  Points
 1. Clarkston (3)                        (13-0)  73
 2. Grand Rapids Christian (1)           (12-0)  70
 3. East Lansing (1)                     (13-0)  67
 4. Muskegon                             (13-0)  60
 5. Kalamazoo Central                    (12-1) 52
 6. Detroit U-D Jesuit                   (11-3)  46
 7. Flint Carman-Ainsworth               (13-1)  41
 8. Macomb Dakota                        (12-3)  38
 9. Holland West Ottawa                  (12-1)  35
 10. Detroit King                        (12-2)  29
 Others receiving 12 or more votes: 
 Detroit East English (11-3) 28.            
            
 Class B            
 School                                      Record  Points
 1. Wyoming Godwin Heights (4)          (13-0)  74
 2. River Rouge (1)                     (13-1)  66
 3. New Haven                           (13-1)  63
 4. Bridgeport                          (12-0)  62
 5. Benton Harbor                       (13-1) 53
 6. Big Rapids                          (12-0)  44
 (tie) Wayland                          (12-2)  44
 8. Grand Rapids Cath. Central          (11-2)  29
 9. Hazel Park                          (10-3)  28
 10. Frankenmuth                        (11-1)  27
 Others receiving votes: 
Hillsdale 21, Freeland (10-2) 17.
Class C            
 School                                      Record  Points
 1. McBain (4)                            (13-0)  74
 2. Pewamo-Westphalia                     (12-0)  64
 3. Kalamazoo Hackett                     (11-0) 57
 4. Norway                                (13-0)  56
 (tie)Riverview Gabriel Richard           (14-0)  56
 6. Monroe St. Mary Catholic              (12-0)  50
 7. Flint Beecher (1)                     (10-3)  44
 8. Sand Creek                            (13-0)  43
 9. Brandywine                            (14-0) 41
 10. Marlette                             (14-1)  23
 Others receiving votes: 
 Breckenridge (10-1) 21, Beaverton (11-2) 15, Michigan Center (13-0) 14.                       
                         
 Class D                        
 School                                      Record  Points
 1. Powers North Central (5)                 (13-0)  75
 2. Southfield Christian                     (10-2)  70
 3. Hillman                                  (12-0)  63
 4. Buckley                                  (11-0)  62
 5. Bellaire                                 (10-1)  52
 6. Bark River-Harris                        (11-3)  45
 7. Lansing Christian                        (11-3)  40
 8. Pickford                                 (9-3)    38
 9. Brimley                                  (10-4)  27
 10. Fowler                                  (8-4)    17
 Others receiving votes: 
 Baldwin (10-1) 15.
Girls 
 Class A            
 School                                      Record  Points
 1. Saginaw Heritage (4)                     (14-0)  74
 2. Detroit King (1)                         (15-1)  71
 3. Warren Cousino                           (14-2)  65
 4. Midland Dow                              (12-2)  57
 5. Port Huron Northern                      (15-2)  53
 6. DeWitt                                   (14-1)  48
 7. Southfield A & T                         (10-4)  37
 8. Muskegon Mona Shores                     (12-3)  35
 9. Clarkston                                (12-3)  30
 10. East Lansing                            (13-2)  27
 Others receiving votes: 
 Hartland (13-1) 20, Marquette (14-1) 18, East Kentwood (13-2) 17.                   
                         
 Class B            
 School                                      Record  Points
 1. Detroit Country Day (4)                  (13-0)  74
 2. Ypsilanti Arbor Prep (1)                 (15-0)  71
 3. Williamston                              (14-1)  65
 4. Grand Rapids Cath. Central               (14-1)  60
 5. Freeland                                 (13-0)  54
 6. Marshall                                 (13-2)  51
 7. Ida                                      (13-1)  42
 8. Hamilton                                 (13-1)  37
 9. Bay City John Glenn                      (11-3)  36
 10. Kalkaska                                (9-2)    22
 Others receiving votes: 
 Muskegon Oakridge (12-2) 17, Holland Christian (12-2) 15, Marine City (15-1) 14.                      
                         
 Class C            
 School                                      Record  Points
 1. Sandusky (3)                             (14-0)  71
 2. Reese                                    (14-1)  65
 3. Detroit Edison (2)                       (11-2)  64
 4. Centreville                              (14-1)  62
 5. Traverse City St. Francis                (11-1)  53
 6. Laingsburg                               (13-1)  48
 7. Munising                                 (15-0)  39
 8. Norway                                   (15-0)  35
 9. Flint Hamady                             (10-3)  30
 10. Pewamo-Westphalia                       (12-2)  27
 Others receiving votes: 
 Carson City-Crystal (13-2) 22, St. Ignace LaSalle (12-2) 15, Galesburg-Augusta (12-2) 12.                     
                         
 Class D                        
 School                                      Record  Points
 1. Pittsford (5)                            (16-0)  75
 2. Mount Pleasant Sacred Heart              (13-1)  66
 3. Hillman                                  (13-1)  65
 4. Waterford Our Lady                       (12-3)  64
 5. Gaylord St. Mary                         (13-1)  52
 6. Michigan Lutheran                        (13-2) 44
 7. Baraga                                   (12-2)  41
 8. Cedarville                               (11-3)  39
 9. Crystal Falls Forest Park                (12-2)  36
 10. Bellaire                                (10-3)  20
 Others receiving votes: 
 Pickford (12-3) 19, Novi Franklin Road Christian (11-2) 13, Engadine (11-3) 12, Portland St. Patrick (10-4) 12.