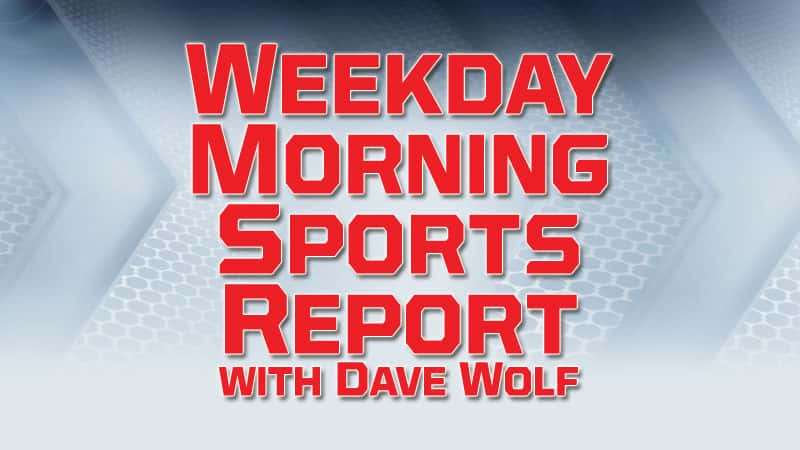 95.7 & 1400 WSJM Sports     @wsjmsports     wsjmsports.com     Wednesday, February 08, 2017
NCAAMBB – Men's College Basketball
Last Night
Michigan 86, Michigan State 57
Notre Dame 88, Wake Forest 81
Western Michigan 72, Miami (OH) 55
Central Michigan 97, Ohio 87
Toledo 73, Eastern Michigan 57
Michigan 86, Michigan State  57 – Sharp-shooting Michigan routs Michigan State 86-57
Derrick Walton had 20 points and eight assists, and Michigan rolled to an 86-57 victory over Michigan State on Tuesday night to equal its most lopsided victory over the Spartans since 1948. The last time the Wolverines beat Michigan State by more was in a 66-33 victory Dec. 4, 1948. Michigan also beat the Spartans by 29 in a 75-46 win in 1996, in Tom Izzo's first season as Michigan State's coach. The Wolverines led 55-29 at halftime after shooting 75 percent from the field, and 8 of 11 from 3-point range, through the first 20 minutes.  Michigan (15-9, 5-6) continued its enigmatic run through Big Ten play. The Wolverines beat Indiana by 30 on Jan. 26, then lost at Michigan State and at home against Ohio State before routing the Spartans (14-10, 6-5) in Tuesday's rematch. Moe Wagner added 19 points for Michigan, which snapped a five-game losing streak in the series. Miles Bridges scored 15 points for the Spartans.
Notre Dame 88, Wake Forest 81 – Colson leads Notre Dame past Wake forest 88-81
Bonzie Colson had 27 points and 16 rebounds Tuesday for Notre Dame, which snapped a four-game losing streak with an 88-81 win over Wake Forest. Colson grabbed 11 of his rebounds in the second half and recorded his 15th double-double of the season. He also set a career high with five blocked shots and knocked down two 3-pointers. V.J. Beachem added 19 points and a career-high four blocks and Steve Vasturia had 17 points and seven boards for Notre Dame (18-7, 7-5 ACC), which had lost five out of its last six and fell out of the Top 25 this week, but came back from a nine-point second half deficit. John Collins had 24 points and 14 rebounds to lead Wake Forest (14-10, 5-7). Bryan Crawford added 19 points and Keyshawn Woods had 16. Collins recorded his seventh straight 20-point game for the Demon Deacons, the longest such streak in the ACC since North Carolina State's T.J. Warren had 15 in a row in the 2013-14 season.
WMU 72, M-OH 55 – Reggie Jones scores career-high 26 in Western Michigan win
Reggie Jones hit four 3-pointers and scored a career-high 26 points, Thomas Wilder added 18 points, and Western Michigan beat Miami (Ohio) 72-55 last night. Jones, with a previous best of 24 points, was 10 of 18 from the floor and only missed three 3-pointers.
CMU 97, Ohio 87 – Central Michigan beats Ohio 97-87 behind Keene's 41 points
Marcus Keene scored 41 points with nine 3-pointers, Braylon Rayson added 21 points with four assists, and Central Michigan beat Ohio 97-87 last night to win its second straight. It was Keene's fifth 40-point game of the season. Gonzaga's Adam Morrison (2006) is only other player in last 20 seasons with five such games.
Toledo 73, EMU 57 – Toledo shoots 53 percent, rolls past Eastern Michigan 73-57
Nate Navigato scored 16 points, Jordan Lauf had 15 and Toledo cruised to a 73-57 victory over Eastern Michigan on Tuesday night to snap a three-game losing skid. Ty Toney had 13 points to lead the Eagles (13-11, 5-6). Willie Mangum IV scored 11 points and James Thompson IV grabbed a game-high 11 rebounds and chipped in nine points.
NBA – National Basketball Association
Tonight
Cleveland Cavaliers at Indiana Pacers, 7:00 p.m.
Los Angeles Lakers at Detroit Pistons, 7:30 p.m.
Chicago Bulls at Golden State Warriors, 10:30 p.m.
NHL – National Hockey League
Last Night
Columbus Blue Jackets 3, Detroit Red Wings 2 – OT
Blue Jackets 3, Red Wings 2 – OT – Jones scores on OT to lift Blue Jackets over Red Wings
Seth Jones took a drop pass from Brandon Dubinsky and wired a high slap shot past goalie Petr Mrazek 3:22 into overtime to give the Columbus Blue Jackets a 3-2 victory over the Detroit Red Wings on Tuesday night. The Blue Jackets ended an 0-1-1 skid and haven't lost three straight games yet this season. Detroit snapped a two-game winning streak. Nick Jensen got his second career goal, both in the last four games, and Thomas Vanek added a tying score midway through the second period for Detroit. Mrazek made 24 saves. Dubinsky and Cam Atkinson scored for the Blue Jackets, and Sergei Bobrovsky stopped 24 shots. The Red Wings have given up the first goal 31 times this season, but Jensen gave them an early lead. He took a cross-ice feed from Dylan Larkin and drilled a slap shot past Bobrovsky just 3:22 in.
Tonight
Chicago Blackhawks at Minnesota Wild, 8:00 p.m.
NHL – Boston Bruins fire coach Claude Julien
The Boston Bruins fired Stanley Cup-winning coach Claude Julien on Tuesday as the team was in danger of missing the playoffs for a third straight season.  He was the longest-tenured coach in the NHL.  Julien was 419-246-94 in 10 seasons that included two trips to the NHL finals and a Stanley Cup title in 2011. The Bruins lost in the finals two years later, and the year after that earned 117 points and the Presidents' Trophy.  But in 2014-15, Boston was eliminated from the playoff race on the final day of the regular season _ the first time in Julien's tenure they sat out the playoffs. Again last year, the Bruins had a chance to reach the playoffs heading into the final week, but they lost nine of their last 12 games to finish ninth in the Eastern Conference.  The Bruins hadn't kept a coach who missed the playoffs two straight years since 1965, when Milt Schmidt was given a third year before he was replaced by Harry Sinden.
NCAAWBB – Women's College Basketball
Tonight
(21) Michigan at Purdue, 6:00 p.m.
Eastern Michigan at Kent State, 7:00 p.m.
Toledo at Western Michigan, 7:00 p.m.
Central Michigan at Northern Illinois, 8:00 p.m.
MLB – Cubs' Rizzo reaches out to boy who was attacked at school
Chicago Cubs star Anthony Rizzo has extended an invite to a 12-year-old boy who was severely beaten by a classmate at a suburban Chicago school. Rizzo tweeted his invitation to Henry Sembdner to watch batting practice and a game, saying he'd heard the boy was a Cubs fan. Authorities say Henry suffered facial fractures and other injuries in Friday's attack.
NCAAFB – Ex-Western Michigan player says home invasion not his idea
A former Western Michigan University football player facing armed robbery and home invasion charges has testified the crime was his co-defendant's idea. Nineteen-year-old Ronald George of Pittsburgh testified Tuesday in Kalamazoo County District Court in a preliminary examination for 18-year-old Bryson White of Mason, Ohio. The two were due to play for the Broncos last fall, but were dismissed from the team following their arrests. They're accused of using a gun and knife to rob a woman at her Kalamazoo apartment last August.  The Kalamazoo Gazette reports both men waived preliminary examinations last fall and were bound over to stand trial, but White's case was remanded to district court for a preliminary examination after a plea agreement wasn't reached before a deadline. White's preliminary examination will continue Feb. 14.
AHL – American Hockey League
Tonight
Manitoba Moose at Grand Rapids Griffins, 7:00 p.m.
MHSAA – High School Sports
Last Night
Boys Basketball
SMAC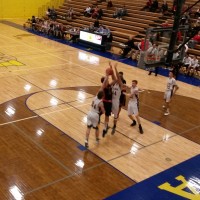 Mattawan 59, Lakeshore 46
Mattawan snapped a seven game losing streak with a 59-46 win over Lakeshore.  Other than a brief two point lead early in the first quarter, the Lancers were forced to play catch-up all night but the Wildcats managed to hold them off.  Max Gaishin led Lakeshore with 28 points.  Nolan Foster scored 17 in the win for Mattawan.
St. Joseph 69, Battle Creek Lakeview 61
St. Joe improved to 7-6 on the season after a 69-61 home win over Battle Creek Lakeview.  The Bears had 4 starters in double figures with Michael Hunn scoring 17 points and 12 rebounds to lead St. Joe.  Ryan Haynes had 15 points, Izak Ruddell had 13 while Cade Shimulunas had 10 in the win.   Anthony Evans had 17 to lead Lakeview.  St. Joe will be at Benton Harbor on Friday.
Gull Lake 75, Niles 63
Portage Central 77, Kalamazoo Loy Norrix 42
Battle Creek Central 66, Portage Northern 29
Wolverine
Dowagiac 77, Allegan 34
Edwardsburg 49, Plainwell 47
Sturgis 63, Otsego 58
Paw Paw 71, Three Rivers 49
Non-Conference/Independent
Schoolcraft 82, Vicksburg 73
Brandywine 72, Bangor 32
Kalamazoo Hackett 77, Comstock 52
Howardsville Christian 74, Kal. Phoenix 64
BCS
Berrien Springs at Cassopolis, 7:30 p.m.
Centreville 58, Buchanan 47
New Buffalo 62, Constantine 55
SAC
Watervliet 49, Marcellus 33
Saugatuck 97, Eau Claire 92
Decatur 60, Hartford 57
Fennville 59, Martin 51
Gobles 59, Lawrence 43
Girls Basketball
SMAC
Lakeshore 41, Mattawan 18
Lakeshore got a game high 14 points from Taylor Wagner and 13 from Sarah Dubbert in a 41-18 win over Mattawan.  Lakeshore breaks a 2 game losing streak to improve to 12-4.  Mattawan committed 27 turnovers and fall to 3-12 on the season.
Battle Creek Lakeview 43, St. Joseph 32
St. Joe suffered just their third loss of the season as the SMAC West leading Bears fell 43-32 at SMAC East leading Lakeview 43-32.    Katie Algyre had 13 points to leas for St. Joe, who fall to 13-2.  St. Joe is off until next Wednesday for a home game against Edwardsburg
Gull Lake 58, Niles 52
Portage Central 45, Kalamazoo Loy Norrix 18
Portage Northern 50, Battle Creek Central 38
Wolverine
Allegan 52, Dowagiac 25
Edwardsburg 42, Plainwell 37
Otsego 57, Sturgis 29
Three Rivers 46, Paw Paw 36
Non-Conference/Independent
Vicksburg 39, Schoolcraft 35 – OT
Brandywine 42, Bangor 33
Comstock 53, Kalamazoo Hackett 36
Kalamazoo Central 69, Harper Creek 50
BCS
Centreville 43, Berrien Springs 35
Countryside 53, Bridgman 47 – OT
Constantine 44, New Buffalo 36
SAC
Watervliet 42, Marcellus 33
Saugatuck 58, Eau Claire 5
Hartford 41, Decatur 29
Fennville 45, Martin 37
Gobles 64, Lawrence 60
Boys Swimming
St. Joseph 116, Kalamazoo Central 69
Tonight
Boys Basketball
Benton Harbor at Kalamazoo Loy Norrix, 7:15 p.m.
Muskegon Heights at Covert, 6:00 p.m.
Delton-Kellogg at Saugatuck, 7:00 p.m.
Girls Basketball
Michigan Lutheran at Benton Harbor, 7:30 p.m.
Cassopolis at White Pigeon, 7:30 p.m.
Muskegon Heights at Covert, 4:30 p.m.
Delton-Kellogg at Saugatuck, 5:30 p.m.
Wrestling – Team Districts
Division 2 at Edwardsburg
St. Joseph vs. Niles, 5:30 p.m.
Lakeshore vs. Edwardsburg, 5:30 p.m.
Championship afterwards
Division 2 at Mattawan
Mattawan vs. Three Rivers, 5:30 p.m.
Vicksburg, Bye
Championship afterwards
Division 2 at Battle Creek Harper Creek
Harper Creek vs. Battle Creek Central, 5:30 p.m.
Gull Lake, Bye
Championship afterwards
Division 2 at Coldwater
Sturgis vs. Coldwater, 5:30 p.m.
Marshall, Bye
Championship afterwards
Division 4 at Watervliet
Bangor vs. Hartford, 6:00 p.m.
Watervliet vs. Lawrence, 6:00 p.m.
Championship afterwards
Division 4 at Bloomingdale
Martin vs. Bloomingdal, 6:00 p.m.
Gobles vs. Calvin Christian, 6:00 p.m.
Championship afterwards
Division 4 at Eau Claire
Brandywine vs. Cassopolis, 6:00 p.m.
Eau Claire vs. River Valley, 6:00 p.m.
Championship afterwards
Division 4 at Marcellus
Lawton vs. Decatur, 6:00 p.m.
Schoolcraft vs. Marcellus, 6:00 p.m.
Championship afterwards