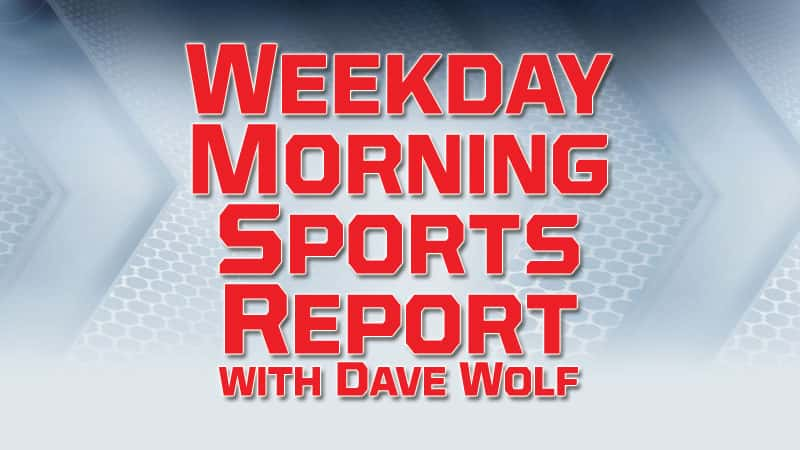 NCAAMBB – Men's College Basketball
Yesterday
Michigan 75, Indiana 63
Michigan 75, Indiana 63 – Walton helps Wolverines take control in rare win at Indiana
Derrick Walton Jr. scored 25 points and Moritz Wagner had 11 points and 10 rebounds Sunday to lead Michigan past Indiana 75-63. The Wolverines (16-9, 6-6 Big Ten) won their second straight and just their 14th all-time win in Bloomington. De'Ron Davis finished with 13 points to lead the Hoosiers (15-11, 5-7). Josh Newkirk and Juwan Morgan each had 11 for Indiana, which has lost three in a row. The Hoosiers never really had a chance, though. They trailed the entire game and only made one serious challenge after trailing 35-25 at halftime, when James Blackmon Jr.'s 3-pointer with 13:38 to go got Indiana within 41-35. But Michigan answered by making its next seven shots to make it 56-43 with 8:29 left, and Indiana couldn't get closer than 8 the rest of the way.
Visitation for Ilitch set for Wednesday at Fox Theatre
Mike Ilitch will lie in repose for a public visitation Wednesday at Fox Theatre in Detroit. Ilitch, the billionaire businessman who founded the Little Caesars pizza empire and bought the Detroit Red Wings and Detroit Tigers, died Friday. Ilitch Holdings Inc. announced information Sunday night on how the public could pay respects. Events this week include the visitation from noon to 8 p.m. on Wednesday, and a public memorial display at Comerica Park beginning at 1 p.m. on Monday.
NBA – National Basketball Association
Yesterday
Minnesota Timberwolves 117, Chicago Bulls 89
Detroit Pistons 102, Toronto Raptors 101
T-Wolves 117, Bulls 89 – Wolves roll short-handed Bulls to help Thibs to season sweep
Andrew Wiggins scored 27 points and Karl-Anthony Towns added 22 to help the Minnesota Timberwolves beat the severely short-handed Chicago Bulls 117-89 on Sunday. Ricky Rubio had 17 points, 11 assists and six rebounds and Minnesota shot 54 percent to help coach Tom Thibodeau sweep the season series against his former team. Gorgui Dieng added 10 points and 13 rebounds. Doug McDermott scored 16 points and made four 3-pointers for the Bulls, who were missing Jimmy Butler, Dwyane Wade, Nikola Mirotic and Paul Zipser with injuries. The Bulls turned the ball over 18 times, were outrebounded 46-35 and were outscored 56-38 in the paint.
Pistons 102, Raptors 101 – Harris leads Pistons to 102-101 comeback win over Raptors
Kentavious Caldwell-Pope drilled just his second 3-pointer of the night with 13.2 seconds remaining, to cap a 16-point fourth-quarter comeback and lead the Detroit Pistons to a 102-101 win over the Toronto Raptors. Finishing with 21 points, the fourth-year guard said that he drew strength from the support of his teammates, even as his shot deserted him. Tobias Harris led the way for the Pistons with 24 points off the bench, while Andre Drummond had 10 points and 18 rebounds for his 36th double-double of the season as the Pistons snapped a four-game skid in Toronto. DeMar DeRozan finished with a game-high 26 points for Toronto, but it wasn't enough to keep the Raptors from losing for the 10th time in their last 14 games.
Tonight
San Antonio Spurs at Indiana Pacers, 7:00 p.m.
Detroit Pistons at Milwaukee Bucks, 8:00 p.m.
NBA – Bulls' Wade, Butler, Mirotic, Zipser all out vs. Wolves
The Chicago Bulls have scratched Dwyane Wade, Jimmy Butler, Nikola Mirotic and Paul Zipser for their game against the Minnesota Timberwolves, the final one of a long road trip. Wade sat out with a swollen right wrist, Butler has a bruised right heel, Mirotic developed back spasms and Zipser stayed at the team hotel for Sunday's game because of an illness. That left the Bulls with 10 healthy players against the Timberwolves. Wade says he will get X-rays on his wrist. He injured it while bracing a fall in Friday night's game against Phoenix. Coach Fred Hoiberg says it is too early to tell whether Butler's injury will keep him from starting the All-Star game next weekend. Hoiberg also says Zipser likely would have missed the game anyway because of a sore left ankle.
NHL – National Hockey League
Last Night
Minnesota Wild 6, Detroit Red Wings 3
Wild 6, Red Wings 3 – Zach Parise scores twice, Wild beat Red Wings 6-3
Zach Parise scored twice and Devan Dubnyk made 30 saves to help the Western Conference-leading Minnesota Wild beat the Detroit Red Wings 6-3 on Sunday. Charlie Coyle added a goal and an assist, and the Wild scored three power-play goals in four chances. Minnesota leads Chicago by five points and has played two fewer games than the Blackhawks. Anthony Mantha had a goal and an assist for Detroit, Henrik Zetterberg and Andreas Athanasiou also scored, and Jared Coreau made 23 saves. The Red Wings have lost four straight and have the worst record in the Eastern Conference. Parise made it 4-2 early in the third off a scramble behind the net. Coreau tried to clear the puck around the boards, but Jason Pominville intercepted it and quickly fed it out front to Parise, who punched it into the open net. Parise capped the scoring on the power play midway through the third period. Coreau deflected Jared Spurgeon's slap shot behind the net, but Eric Staal knocked it in front of the net and Parise whacked it out of the air for his 13th of the season.
NCAAWBB – Women's College Basketball
Last Night
(7) Notre Dame 90, Georgia Tech 69
(3) Maryland 89, Michigan State 72
(21) Michigan 75, Wisconsin 66
#7 Notre Dame 90, Georgia Tech 89 – Mabrey shoots No. 7 Notre Dame past Georgia Tech
Marina Mabrey scored 25 points Sunday to lead No. 7 Notre Dame to its seventh straight win, 90-69 over Georgia Tech. After missing her first two shots, Mabrey knocked down 11 of her next 12 to finish two points away from her career high. Brianna Turner added 21 points and nine rebounds and Arike Ogunbowale had 18 points and 10 boards for the Irish (23-3, 11-1 ACC) who swept the season series with the Yellow Jackets. Francesca Pan tied her career-high of four 3-pointers and scored 24 points to lead Georgia Tech (14-11, 3-9 ACC), which has lost seven of eight. Imani Tilford chipped in 15 points. Reigning ACC player of the week Zaire O'Neil came in averaging more than 20 points over Tech's last three games, including a career-high 28 last time out against North Carolina State. But O'Neil found the going much tougher down low against the taller Turner and finished with just nine points. Turner blocked five shots.
#3 Maryland 89, Michigan State 72 – No. 3 Maryland beats Michigan State 89-72
Brionna Jones had 28 points and 15 rebounds, and No. 3 Maryland beat Michigan State 89-72 on Sunday, spoiling coach Suzy Merchant's return to the sideline for the Spartans. Jones, who came into the game with the top field goal percentage in the nation at 69.2 percent, upped that mark by going 9 for 12. She made her first seven shots from the floor and didn't miss one until the final minute of the third quarter. The Terrapins (25-1, 13-0) improved to 53-2 against league opponents, including conference tournament games, since joining the Big Ten in 2014-15. Merchant came back from a medical leave of absence to coach the Spartans (16-9, 6-6) for the first time since Jan. 14. Shatori Walker-Kimbrough scored 24 points for Maryland, which shot 61 percent from the field in the first half and led 51-40 at halftime. Tori Jankoska led Michigan State with 23 points. The Spartans never led in the game.
#21 Michigan 75, Wisconsin 66 – Flaherty scores 35, No. 21 Michigan women top Badgers 75-66
Katelynn Flaherty hit six 3-pointers and scored 35 points to help No. 21 Michigan beat Wisconsin 75-66 on Sunday. Flaherty was 12 of 17 from the floor, including 6 of 10 from distance, and 5 of 8 at the stripe. She had 21 points, on 7-of-10 shooting, in the first half for her third 20-point half of the season. With her 12th point in the first half, Flaherty moved past 500 points for the season, the 11th player to do so in program history. Hallie Thome had 13 points, six rebounds and four assists for Michigan (21-5, 10-2 Big Ten), which shot 49.1 percent overall and hit nine 3-pointers. Nicole Munger added 12 points and 10 rebounds for her first career double-double. vyanna Young led Wisconsin (6-19, 1-11) with 23 points and 13 rebounds. She was 11 of 15 from the floor. Cayla McMorris added 12, Courtney Fredrickson 11 and Marsha Howard 10.
NCAAWBB – Michigan State's Merchant returns from medical leave
Michigan State women's basketball coach Suzy Merchant has returned from her medical leave of absence to coach Sunday's game against No. 3 Maryland. It was Merchant's first game back since she coached at Rutgers on Jan. 14. Merchant fainted during a home game against Illinois on Jan. 1 and was later taken to a hospital for tests and kept overnight as a precaution. She did not coach on Jan. 4 at Purdue before returning for the next three games. She felt similar symptoms after the game at Rutgers and stayed in New Jersey for tests at a hospital. Merchant is in her 10th season at Michigan State.
Golf – Pebble Beach Pro-Am – Spieth wins
Jordan Spieth completed a convincing win at the Pebble Beach Pro-Am, finishing four shots ahead of Kelly Kraft after carrying a six-stroke advantage into the final round. The 23-year-old Spieth closed with a 2-under 70 for a 19-under total. He took control of the tournament with consecutive 65's and became the second-youngest winner of the event.
MLB – Braves and Reds maneuver
The Atlanta Braves have added a three-time All-Star to their lineup, getting second baseman Brandon Phillips from Cincinnati for left-hander Andrew McKirahan and minor league right-hander Carlos Portuondo. The 35-year-old Phillips batted .291 with 11 home runs, 34 doubles and 64 RBIs for the Reds last season. He is a lifetime .275 hitter with 197 homers and 889 RBIs in 15 major league seasons. McKirahan missed all of last season following Tommy John surgery. Portuondo signed with the Braves as a free agent last year after eight seasons in the Cuban league with Santiago.
AHL – American Hockey League
Yesterday
Chicago Wolves 3, San Antonio Rampage 2
ECHL – East Coast Hockey League
Yesterday
Fort Wayne Komets 5, Kalamazoo Wings 3
Toledo Walleye 9, Cincinnati Cyclones 1
NBADL – NBA Developmental League
Yesterday
Grand Rapids Drive 97, Maine Red Claws 79
MHSAA – High School Sports
Yesterday
Ice Hockey
Findlay 6, Lakeshore/St. Joseph 3
Today
Boys Basketball
Edwardsburg at Three Rivers, 7:15 p.m.
Dream Academy at Cassopolis, 7:30 p.m.
Girls Basketball
Niles at Buchanan, 7:30 p.m.
Gobles at South Haven, 7:00 p.m.
Edwardsburg at Three Rivers, 5:45 p.m.
Dream Academy at Cassopolis, 6:00 p.m.
Watervliet Grace Christian at Howardsville Christian, 6:00 p.m.
New Buffalo at River Valley, 7:30 p.m.
Battle Creek St. Philip at Mendon, 7:00 p.m.