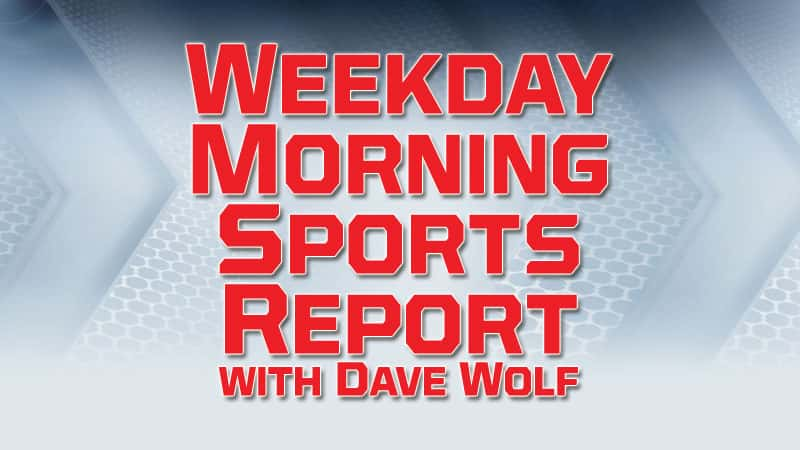 95.7 & 1400 WSJM Sports     @wsjmsports     wsjmsports.com     Wednesday, October 11, 2017
MLB – Major League Baseball – 2017 Division Series
Yesterday
Washington Nationals at Chicago Cubs, PPD Rain
Nationals at Cubs, PPD – Cubs-Nats rained out
The Washington Nationals are still alive in the NL Division Series, but only after Tuesday's rainout at Wrigley Field.  Game 4 of the series has been rescheduled for Wednesday in Chicago as the Cubs try to gain a spot in the NLCS against the Dodgers. The Cubs and Nationals took batting practice and the grounds crew got the field ready before bringing out the tarp. The rain started to fall about a half-hour after the game was supposed to start. Major League Baseball called off the game with more showers in the forecast. The Game 4 starters will remain the same, with Cubs right-hander Jake Arrieta taking the mound against Tanner Roark.
Today
Washington (Roark 13-11) at Chicago (Arrieta 14-10), 4:08 p.m.          (CHC Leads 2-1)
New York (Sabathia 14-5) at Cleveland (Kluber 18-4), 8:08 p.m.            (Series tied 2-2)
NHL – National Hockey League
Last Night
Chicago Blackhawks 3, Montreal Canadiens 1
Dallas Stars 4, Detroit Red Wings 2
Blackhawks 3, Canadiens 1 – DeBrincat helps Blackhawks to 3-1 win over Montreal
Alex DeBrincat scored his first NHL goal and set up one for Artem Anisimov to help Chicago spoil Montreal's home opener.  Brandon Saad also scored for the Blackhawks (3-0-1), who were coming off an overtime loss Monday night in Toronto. Corey Crawford made 41 saves and outplayed Montreal goalie Carey Price, who stopped 22 shots. Tomas Plekanec scored for Montreal (1-3-0), which has lost three in a row and scored only four goals overall. The Canadiens went 0 for 5 on the power play and are 0 for 14 this season.  Montreal outshot the Blackhawks 42-25.
Stars 4, Red Wings 2 – Klingberg, Seguin score early, Stars hold off Red Wings 4-2
John Klingberg and Tyler Seguin scored in the first period, and the Dallas Stars beat the Detroit Red Wings 4-2 on Tuesday night for their first win of the season. Ben Bishop made 23 saves for Dallas (1-2). Mattias Janmark scored in the second period and Martin Hanzal put the puck into an empty net with 2 seconds remaining. Detroit (2-1) got goals from Justin Abdelkader in the second period and Anthony Mantha in the third. Petr Mrazek stopped 29 shots.
NHL – Vegas Golden Knights rout Coyotes 5-2 in inspired home debut
The Vegas Golden Knights are the first NHL team to win its first three games, doing it by taking a 4-0 lead midway through the first period of a 5-2 victory against Arizona. It was the first regular-season home game for the Knights, but the pregame festivities were tempered less than a mile from a makeshift memorial created for the 58 people killed in the Oct. 1 massacre.
NFL – Bears place linebacker Willie Young on injured reserve
The Chicago Bears have placed outside linebacker Willie Young on injured reserve because of a triceps injury. Young was injured against Green Bay on Sept. 28. He has seven tackles and two sacks this season. Young has 26 sacks in four seasons with Chicago and 32 in eight years with the Bears and Detroit Lions. The Bears' defense has also lost inside linebackers Jerrell Freeman and his replacement Nick Kwiatkoski to pectoral injuries as well as safety Quintin Demps (broken arm). Linebacker John Timu suffered a knee injury in Monday's loss to Minnesota. The Bears (1-4) announced the move on Tuesday. Chicago visits Baltimore on Sunday.
NFL – Cardinals trade for Peterson
The Arizona Cardinals hope they have bolstered their running back depth by acquiring four-time All-Pro Adrian Peterson and releasing veteran Chris Johnson.  The Cardinals are sending a conditional 2018 draft pick for Peterson, who has rushed for 11,828 yards and 97 touchdowns in his 10-plus NFL seasons.  Peterson played sparingly with little success for the Saints this season, gaining just 81 yards on 27 carries.
NFL – Vikings: No new injury for Bradford, just knee wear and tear
Vikings quarterback Sam Bradford has received some good news concerning his ailing left knee after he was pulled from Monday night's 20-17 win over the Bears due to continued discomfort.  Bradford has undergone another MRI that revealed no additional ligament damage or bone bruising. Vikings trainer Eric Sugarman says Bradford was just bothered by aggravation of the wear and tear in the joint that has hampered him for the past four weeks.
NFL – Owners to consider anthem policy change
NFL owners will meet next week to consider changes to a game manual that says players "should" stand during the national anthem. The league had left the guideline to the discretion of players who kneeled in larger numbers after criticism from President Donald Trump.  Commissioner Roger Goodell told club executives Tuesday in a memo obtained by The Associated Press that the anthem issue is dividing the league from its fans. Meanwhile, President Donald Trump is suggesting the U.S. change its tax laws to punish organizations like the NFL if members are "disrespecting" the national anthem or flag. However, the league gave up its federal tax-exempt status a few years ago and now files tax returns as a taxable entity. So it's unlikely that Trump's proposal, tweeted in the early hours Tuesday, would change anything.
NFL – Pro Football Hall of Fame eyes game on NFL's 100th birthday
The president of the Pro Football Hall of Fame says he'd like to have a regular-season NFL game at the hall's stadium in Ohio to mark the league's 100th birthday.  The Repository newspaper reports hall president David Baker recently talked with NFL officials about scheduling a game in Canton on Thursday, Sept. 17, 2020, exactly 100 years after the league was founded in the city. Baker says he thinks the proposal will get legitimate consideration. He says his ideal scenario would be a game between the Chicago Bears and the Arizona Cardinals. They are the only two current teams who, under different names, were part of the NFL at the start. Baker says that matchup would require special accommodation because those teams aren't scheduled to meet in 2020.
FIFA – US out of World Cup contention with 2-1 loss at Trinidad
The United States has been eliminated from World Cup contention, a shocking loss at Trinidad ending the Americans' streak of seven straight appearances at soccer's showcase. Twenty-eight years after a stunning victory at Trinidad put the Americans back in the World Cup after a four-decade absence, their chances for next year's ournament in Russia ended on this island nation off the coast of Venezuela. Trinidad and Tobago scored a pair of first-half goals, and the United States was eliminated with a 2-1 defeat Tuesday night _ the first time missing the World Cup since 1986. The U.S. entered its final qualifier with a berth uncertain for the first time since 1989. Home losses to Mexico last November and Costa Rica left the Americans little margin for error. The 28th-ranked Americans needed merely a tie against 99th-ranked Trinidad, which lost its sixth straight qualifier last week. But the defeat _ coupled with Honduras' come-from-behind 3-2 win over Mexico and Panama's 2-1 victory over Costa Rica on Ramon Torres' 88th-minute goal _ dropped the Americans from third place into fifth in the six-nation final round of the North and Central American and Caribbean region.
NBA – NBA Preseason
Last Night
Toronto Raptors 116, Detroit Pistons 94
Indiana Pacers 108, Haifa Maccabi (Isreal) 89
Chicago Bulls 108, Cleveland Cavaliers 94
NBA – AP source: 76ers, Embiid agree on 5-year, $148M extension
The Philadelphia 76ers have given a long-term contract to one of their young stars.  A person familiar with the situation tells The Associated Press that Joel Embiid (joh-EHL' ehm-BEED') has signed a five-year, $148 million deal that will become more lucrative if he reaches certain incentives. He'll make $6.1 million this season in the final year of his rookie deal. Embiid missed his first two NBA seasons due to injury and played just 31 games last season before undergoing minor knee surgery in March to repair a torn meniscus. He has displayed his potential when healthy, averaging 20 points and 7.8 rebounds for the Sixers.
NCAA – Ex-Penn State AD Curley out of prison, serves 2 ½ months
Former Penn State athletic director Tim Curley is now serving the house-arrest portion of his prison sentence after completing a 2 ½ month jail term.  Curley pleaded guilty in March to child endangerment for not properly investigating a complaint by a Penn State assistant coach that former coach Jerry Sandusky abused a boy in a locker room shower. He had been sentenced to seven to 23 months in jail, but Pennlive.com reports he was released from the Centre County jail on Oct. 3. Curley must now serve four months on house arrest followed by two years on probation.
AHL – Avalanche announce new AHL affiliate in Colorado Eagles
The Colorado Avalanche will have a new American Hockey League affiliate in 2018-19 and a team that's closer to home. Colorado officials announced Tuesday that the Colorado Eagles will take over for the San Antonio Rampage as the Avs' AHL affiliate. The AHL Board of Governors approved league expansion in July, with the Eagles set to come on board. The Eagles are located in Loveland, about 60 miles north of Denver, and will spend one final season as Colorado's ECHL affiliate. The Eagles started play in 2003, winning the Central Hockey League championship in 2004-05 and again in `06-07. Last season, they captured the Kelly Cup as ECHL champions. GM Joe Sakic says Avs fans can now see top prospects "developing in an outstanding environment just up the road."
MHSAA – High School Sports
Yesterday
Boys Soccer – SMAC Tournament
Portage Central 1, Portage Northern 0 (Championship)
Kalamazoo Central 4, Lakeshore 3 (3rd place)
Mattawan 5, St. Joseph 1 (5th place)
Gull Lake defeats Kalamazoo Loy Norrix (score n/a) (7th place)
Niles 2, Battle Creek Lakeview (9th pace)
Battle Creek Central (Bye) (11th place)
Boys Soccer
Allegan 6, South Haven 0
Berrien Springs 4, Michigan Lutheran 0
Girls Volleyball
Wtvl Grace Christian 3, Benton Harbor 0
Constantine 3, Lawton 0
Centreville 3, Cassopolis 0
Mendon 3, Marcellus 0
Saugatuck 3, Lawrence 0
Hartford 3, Bloomingdale 1
Coloma 3, Fennville 0
Girls Swimming and Diving
St. Joseph 99, Battle Creek Central 87
Today
Girls Volleyball
Niles at St. Joseph, 6:30 p.m.
Mattawan at Battle Creek Central, 6:30 p.m.
Boys Soccer
Dowagiac at Paw Paw, 5:00 p.m.
Vicksburg at Three Rivers, 5:00 p.m.
Sturgis at Edwadsburg, 5:00 p.m.
Covert at Brandywine, 5:00 p.m.
Lake Michigan Catholic at Parchment, 6:00 p.m.
Saugatuck at Bloomingdale, 6:00 p.m.
Bangor at Gobles, 5:00 p.m.
Lawton at Cassopolis, 5:00 p.m.