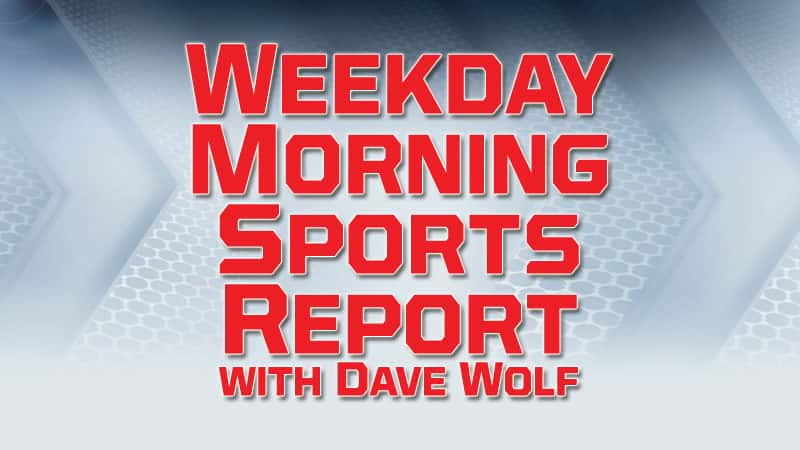 95.7 & 1400 WSJM Sports     @wsjmsports     wsjmsports.com     Monday, February 12, 2018
NCAAMBB – Men's College Basketball
Yesterday
(20) Michigan 83, Wisconsin 72
(20) Michigan 83, Wisconsin 72 – Hot-shooting 1st half helps No. 20 Michigan beat Wisconsin
Duncan Robinson scored 16 points and made all four of his 3s in the first half, Moe Wagner had 20 points and 11 rebounds and No. 20 Michigan rode a hot-shooting start for an 83-72 win on Sunday. The Wolverines (20-7, 9-5) won on the road for the first time since upsetting Michigan State on Jan. 13.  This time, Michigan had to hold on after allowing much of its 22-point halftime lead slip away in the second half.  But the Wolverines made more than enough shots and stops in the first half to hold off the Badgers. The Wolverines started 12 of 16 overall and 7 of 9 from 3-point range. Robinson was 5 of 9 from the field, including 4 of 7 from 3, in his first start since Jan. 9 against Purdue.  Ethan Happ led Wisconsin (11-16, 4-10) with a season-high 29 points, including 18 on 7-of-10 shooting in the second half.
Tonight
Notre Dame at (21) North Carolina, 7:00 p.m.
NCAAWBB – Women's College Basketball
Yesterday
Michigan State 66, (21) Michigan 61
(5) Notre Dame 85, Georgia Tech 69
Akron 77, Eastern Michigan 65
Michigan State 66, (21) Michigan 61 – Short-handed Michigan State women beat No. 21 Michigan 66-61
Lexi Gussert scored 11 of her 14 points in the first half to help her team build a double-digit lead and Michigan State held on to beat No. 21 Michigan 66-61 on Sunday.  The Spartans (15-11, 5-8 Big Ten) had lost six straight, reeling without one of their best players and a key reserve.  The Wolverines (20-7, 9-5) have lost three of four, falling out of contention to win a Big Ten title. Michigan scored the first seven points of the game and Michigan State responded with a 21-4 run to close the pivotal quarter. The Spartans went into the fourth quarter with a 55-45 lead after two evenly matched quarters.  Katelynn Flaherty, Michigan's all-time leading scorer, had 20 points on 6-of-17 shooting and Hallie Thome scored 19 on 5-of-12 shooting.
 (5) Notre Dame 85, Georgia Tech 69 – Ogunbowale gets 27, No. 5 Irish women top Georgia Tech 85-69
Arike Ogunbowale overcame a first-half scoreless drought of nearly 17 minutes to finish with 27 points, leading the Irish to an 85-69 victory on Sunday.  The Irish (23-2, 11-1 ACC) got past 15 turnovers and poor foul shooting in the first 20 minutes for their eighth straight victory. Jackie Young scored 22 points on 10-of-13 shooting, Jessica Shepard had her eighth double-double with 15 points and 11 rebounds and Kathryn Westbeld added 10 points. 
NHL – National Hockey League
Last Night
Detroit Red Wings 5, Washington Capitals 4 – OT
Red Wings 5, Capitals 4 – OT – Tatar leads Red Wings to 5-4 OT win against Capitals
Tomas Tatar scored his second goal of the game 2:47 into overtime, and the Red Wings escaped with a 5-4 victory over the Washington Capitals on Sunday.  Detroit had dropped three in a row. It blew a 5-2 third-period lead against the New York Islanders on Friday and lost 7-6 in overtime.  Tatar beat Braden Holtby for his 14th goal of the season. He also scored with 11 seconds to play in the second period to give Detroit a 4-1 lead.  Justin Abdelkader, Luke Glendening and Anthony Mantha also scored for the Red Wings, and Jimmy Howard made 23 saves in his first win since Jan. 5.  Alex Ovechkin scored his NHL-best 33rd goal for Washington, which was coming off a home-and-home sweep of Columbus. Brett Connolly, Dmitry Orlov and Backstrom scored in the third, and Holtby stopped 24 shots.
Tonight
Chicago Blackhawks at Arizona Coyotes, 9:00 p.m.
NBA – National Basketball Association
Last Night
Atlanta Hawks 118, Detroit Pistons 115
Indiana Pacers 121, New York Knicks 113
Hawks 118, Pistons 115 – Dedmon powers Hawks past Griffin, Pistons 118-115
Dewayne Dedmon matched his career high with 20 points and had 13 rebounds in his matchup with Andre Drummond, who had 25 points and 15 rebounds for Detroit.   Dedmon's three-point play gave Atlanta a 109-107 lead with 1:34 remaining. Blake Griffin had 23 points for Detroit.   The Pistons blamed the loss on bad defense.  "Tough to give up 118 and try to win on the road," Griffin said. "Or win in general."Drummond's big game was not enough to overcome the defensive breakdowns, including in the closing minutes.
Pacers 121, Knicks 113 – Oladipo scores 30 points as Pacers beat Knicks 121-113
Victor Oladipo had 30 points, nine assists and eight rebounds, and the Indiana Pacers beat New York 121-113 on Sunday.  Bojan Bogdanovic made four 3-pointers and finished with 20 points and Thaddeus Young added 18 points, 11 rebounds and five assists for the Pacers, who have won six of eight.  Enes Kanter and Tim Hardaway Jr. each scored 17 points, and Michael Beasley had 16 points and 13 rebounds for the Knicks, whose losing streak reached six games. New York is 0-2 since All-Star Kristaps Porzingis was lost for the season with a torn left ACL on Tuesday.
Tonight
New Orleans Pelicans at Detroit Pistons, 7:00 p.m.
Orlando Magic at Chicago Bulls, 8:00 p.m.
NFL – Colts hire Reich as head coach
The Indianapolis Colts finally have a head coach in place, and this one actually signed his contract.  The Colts have hired Frank Reich, who spent the past season as offensive coordinator of the Super Bowl-champion Eagles. The hiring came five days after Patriots offensive coordinator Josh McDaniels accepted the job, only to back out hours later. This time, Colts officials posted a photo on the team's website of Reich inking the deal. Reich first became an offensive coordinator with the 2014 Chargers and stayed in San Diego before joining Doug Pederson's staff in Philadelphia two years ago.
 
NASCAR – Alex Bowman puts No. 88 on the pole at Daytona
Alex Bowman will start from the pole in the Daytona 500 next Sunday. Bowman won Sunday's qualifier in his debut as the official driver of the No. 88 Chevrolet, talking over for the just-retired Dale Earnhardt Jr. Bowman will be competing in NASCAR's season-opening race for just the second time. Denny Hamlin qualified second in a Toyota from Joe Gibbs Racing. The rest of the field will be decided later this week.
 
Golf – PGA – Potter outplays No. 1 Johnson to win at Pebble Beach
Ted Potter Jr. has earned his first PGA victory since a broken ankle threatened to end his career.  Potter outplayed world No. 1 Dustin Johnson while closing with a 3-under 69 to capture the Pebble Beach Pro-Am. Potter finished at 17-under and earned $1,332,000, nearly half of his career earnings going into the week. Johnson shot a 72 that left him in a second-place tie with Phil Mickelson, Jason Day and Chez Reavie, three shots off the lead.
 
Golf – Champions – Mark Calcavecchia wins Boca Raton Championship
Mark Calcavecchia took advantage of Bernhard Langer's messy finish to complete a wire-to-wire victory in the PGA Tour Champions' Boca Raton Championship.  The 57-year-old Calcavecchia closed with a 2-under 70 to finish 16 under for his fourth senior title. Langer finished two strokes back and one ahead of Fred Funk.
ECHL – East Coast Hockey League
Last Night
Indy Fuel 4, Kalamazoo Wings 2
Toledo Walleye 1, Wichita Thunder 0
2018 Winter Olympics – PyeongChang
 Figure Skating – Team Competition
The United States has come away with a bronze medal in team figure skating during Day 3 of the Winter Games. The Americans led Italy by four points heading into the ice dancing finale. The Italian dancers did not score well enough to win, turning the performance by Maia and Alex Shibutani into an exhibition.  Mirai Nagasu has become the first American woman and third overall to land a triple axel in the Olympics, accomplishing the rare feat in the women's free skate at the team competition.   Canada clinched the gold before the final discipline. The Russians took silver.
Snowboarding – Slopestyle
American Jamie Anderson won her country's second gold medal at the Pyeongchang Games, taking the women's slopestyle snowboarding amid blustery conditions. Anderson is the first woman to win multiple gold medals in women's snowboarding at the Olympics. The win comes a day after teenager Red Gerard won the men's slopestyle for the first U.S. gold medal.
MHSAA – High School Sports
Yesterday
Ice Hockey
Lakeshore/St. Joseph 4, South Bend St. Joseph (IN) 1
Tonight
Boys Basketball
Galesburg-Augusta at Michigan Lutheran, 7:30 p.m.           95.7 & 1400 WSJM Sports
Dream Academy at Howardsville Christian, 7:30 p.m.
Berrien Springs at Brandywine, 7:15 p.m.
B.C. Lakeview at Kalamazoo Central, 7:15 p.m.
Portage Northern at Mattawan, 7:15 p.m.
Parchment at Comstock, 7:15 p.m.
Coloma at Watervliet, 7:30 p.m.
White Pigeon at Hartford, 7:30 p.m.
Cassopolis at Marcellus, 7:30 p.m.
Constantine at Gobles, 7:30 p.m.
Fennville at Martin, 6:30 p.m.
Saugatuck at North Muskegon, 7:15 p.m.
Lawton at Delton-Kellogg, 7:30 p.m.
Girls Basketball
River Valley at Lake Michigan Catholic, 7:30 p.m.
Berrien Springs at Brandywine, 6:00 p.m.
B.C. Lakeview at Kalamazoo Central, 5:45 p.m.
Buchanan at Niles, 7:00 p.m.
Mattawan at Portage Northern, 7:15 p.m.
Parchment at Comstock, 6:00 p.m.
Coloma at Watervliet, 6:00 p.m.
White Pigeon at Hartford, 6:00 p.m. 
Constantine at Gobles, 6:00 p.m.
Fennville at Martin, 5:00 p.m.
Lawton at Delton-Kellogg, 7:30 p.m.