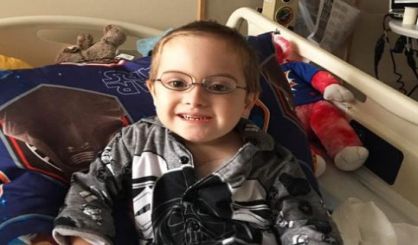 The mother of a 5-year-old southwest Michigan boy who is battling leukemia is thanking the local racing community for its outpouring of support. Leah Dibble, who co-owns the Hartford Motor Speedway with her husband, Tim, says their son Timmy was diagnosed with the disease last month. He's been in a Kalamazoo hospital since.
"I've been staying with him 24-7 and he gets chemo once a week and steroids, which are great for his appetite, and then we have to stay here at least until November 15," Leah Dibble told us.
After that, they may be able to leave, or Timmy could require more treatment. When word got out among the southwest Michigan racing community about Timmy's illness, Dibble says drivers started auctioning off their car doors to raise money to help the Dibbles.
"A driver that is friends with one of our local drivers started putting the door of their race car up for auction on Facebook," Dibble said. "So, it was actually started by someone we didn't know, and then one of our local drivers followed suit and auctioned off his door."
Dibble says the heart people have shown has been overwhelming, noting they weren't even asked.
"The drivers are just wonderful, wonderful people," Dibble said.
Dibble says the help is appreciated, as she's staying with Timmy in the hospital this whole time and not working. As for Timmy, she says his spirits are still up. Some of the supporters have started a GoFundMe for the family. You can find it here.