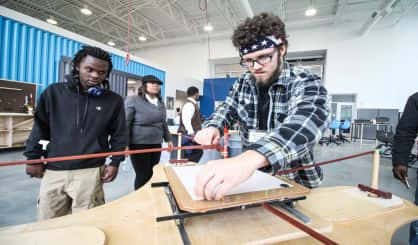 Lake Michigan College is anxious to show off its new Fab Lab this weekend. The Fab Lab is an open access digital fabrication studio and collaborative workshop featuring all sorts of state-of-the-art equipment for makers. Manager Andrea Oleniczak tells WSJM News you can sign up to use it. She wants folks to come out this weekend to see the Fab Lab for themselves.
"We have all of these tools, but it's really a community feel," Oleniczak. "So, everyone's interest in the shop and why they're here is different, and it's really a nice opportunity for us to connect face to face with people and hear what their interest is and how we can make the shop work for them."
They've got laser cutters, 3D printers, vinyl cutters, a woodshop, a CNC router, hand tools, and design software anyone can use. The Fab Lab will work like a gym in that you get a membership and then show up and use the equipment. The open house is Saturday at LMC's Hanson Tech Center from 10 a.m. to 2 p.m.