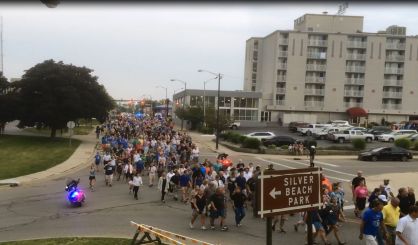 Several hundred people have marched to remember two fallen heroes and to express support for law enforcement in southwest Michigan. A memorial walk on the one year anniversary of the Berrien County Courthouse shootings was held Tuesday night. The procession took everyone from the courthouse to the Law Enforcement Memorial along the bluff in St. Joseph to remember Joe Zangaro and Ron Kienzle, two court security officers killed last year when an inmate grabbed a court security officer's gun. Denise Fisher, with the Fraternal Order of Police, told us the community has really come out in support for police in the last year.
"It's been very nice," Fisher said. "I very rarely had negative feedback from the community when I was working, but it's so nice to see that they rallied around not only the family members of the fallen officers, but the community as a whole came out and supported the first responders and the courthouse employees."
One of the event's organizers, Gretchen Volkenstein, told us she wanted police, court workers, and the families of the fallen officers to hear a message.
"We just did it to show the courthouse employees and the families of Ron and Joe and the local law enforcement how much we appreciate and support them and love them as the community," Volkenstein said. "We know that they've had a really difficult year, and it's been tragic for a lot of people."
At the vigil, Berrien County Judge Gary Bruce said everyone at the courthouse has a couple of Joe Zangaro stories, and remembered Ron Kienzle for his fond talk about being a police officer in Benton Township. He said, for court workers, July 11, 2016 was a day when "our world was rocked." Judge Bruce added he thinks about the shootings every day.