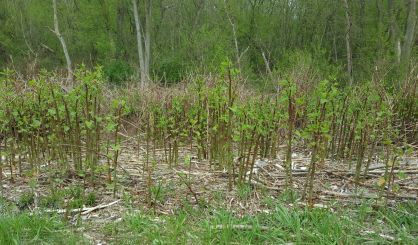 Berrien County Drain Commissioner Christopher Quattrin is looking at his options when it comes to fighting Japanese knotweed. The invasive plant has shown up in at least one Berrien County drainage area. He tells WSJM News he was notified last month when water started building up in the Willow Creek drain, which is near Napier Avenue and Ogden in Benton Township.
"I went out there and looks, and as I was inspecting the drain, I ran across an absolute jungle of knotweed," Quattrin said. "It was like seven feet tall, and very, very dense."
Quattrin tells us the Japanese knotweed is a very hardy bamboo-like plant that can damage pipes and even pavement. He's concerned because it could lead to soil erosion or even flooding if it blocks up drains. Quattrin is planning to meet with staff at the city of St. Joseph to learn more about how they've dealt with knotweed in the ravine area recently. He's also planning to speak with local governments in the area of the Willow Creek drain about clearing it out.