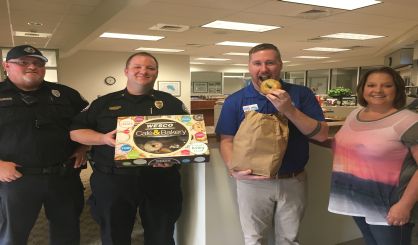 The United Way of Southwest Michigan wants you to commit a random act of kindness. The United Way's Ryan Cheevers tells WSJM News they've launched a new campaign called 75 Acts of Kindness. It's a social media experiment designed to help mark the local United Way's 75th anniversary. He says you're encouraged to do something kind for someone else, and then to post a picture of it to Facebook with the hashtag #75Acts United. Your act of kindness could be anything.
"Donating to a homeless shelter, mow your neighbor's lawn," Cheevers said. "I know that we've had some rain and that the grass will probably grow in the next week so that would be something nice to do for somebody. Give someone a book you think they'd like."
Cheevers tells us they're hoping to amass 75 photos of kindness within the next few months. The campaign kicked off last month when some United Way volunteers showed up to the Coloma Police Department with donuts. The United Way of Southwestern Michigan's Facebook page can be found right here.