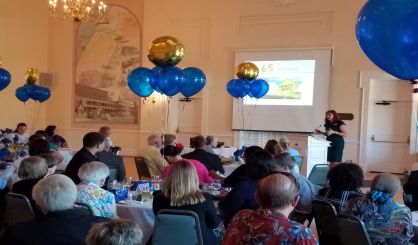 A new scholarship for low-income students has been announced by the Berrien Community Foundation. President Lisa Cripps-Downey closed out Wednesday's annual meeting by unveiling the Trefz Family Scholarship, based on a $500,000 endowment. Cripps-Downey told WSJM News it's all thanks to a trust a woman named Josephine Trefz created when she sold some land which is now part of Lincoln Township Park.
"We all enjoy this park, and it's now giving even more," Cripps-Downey said. "Students who are going to be able to go to college are going to benefit from this piece of property and this gift."
About $20,000 in scholarships will be available each year thanks to this new endowment. Those scholarships will be available to this year's grads. Cripps-Downey notes the new scholarship endowment is one of the Berrien Community Foundation's largest. Also at Wednesday's event, it was announced the Readiness Center in Benton Harbor is this year's recipient of the $50,000 Stephen E. Upton Love Your Community Grant. Plus, the Berrien Community Foundation unveiled a new logo.