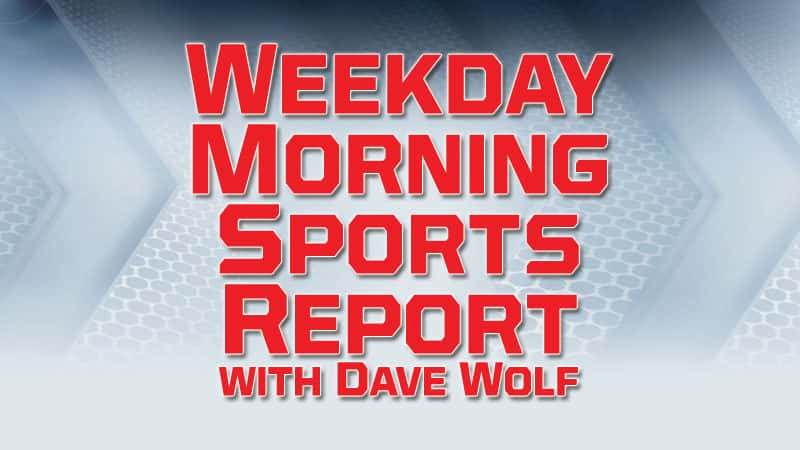 95.7 & 1400 WSJM Sports     @wsjmsports     wsjmsports.com     Thursday, October 12, 2017
MLB – Major League Baseball – 2017 Division Series
Yesterday
Washington Nationals 5, Chicago Cubs 0                                     (Series tied 2-2)
New York Yankees 5, Cleveland Indians 2                                     (NYY wins 3-2)
Nationals 5, Cubs 0 – Strasburg, Nationals beat Cubs 5-0, force NLDS to Game 5
Stephen Strasburg shook off an illness and all doubts about his mettle to pitch seven dominant innings, Michael A. Taylor hit a late grand slam and the Washington Nationals beat the Chicago Cubs 5-0 on Wednesday to send their NL Division Series to a decisive Game 5. The teams packed up at Wrigley Field and headed back to Washington for Game 5 Thursday night. Kyle Hendricks starts for the Cubs after throwing seven sharp innings in a 3-0 victory over Strasburg in Game 1. Gio Gonzalez is the likely starter for the Nationals, with Max Scherzer lurking in the bullpen. Strasburg got sick after his terrific performance in the playoff opener on Friday, and the Nationals had planned to go with Tanner Roark even after a persistent rain washed out Game 4 on Tuesday. That led to a flurry of comments and criticism about whether the ace had the stuff to pitch in big moments. But Strasburg felt better when he woke up Wednesday and told manager Dusty Baker he wanted the ball with Washington's season on the line. try to gain a spot
Yankees 5, Indians 2 – Yanks complete comeback, beat Indians 5-2 in Game 5 of ALDS
Didi Gregorius, following in the October footprints left by Derek Jeter, homered twice off Corey Kluber as the New York Yankees beat the Cleveland Indians 5-2 in Game 5 on Wednesday night to complete their comeback from a 2-0 deficit in the Division Series and dethrone the AL champions. These bend-but-don't-break Yankees staved off elimination for the fourth time in this postseason and advanced to play the Houston Astros in the AL Championship Series starting Friday at Minute Maid Park. The AL West champion Astros, led by 5-foot-6 second-base dynamo and MVP candidate Jose Altuve, went 5-2 against the wild-card winners this season. After winning twice in New York, the Yankees, with little offensive help from rookie star Aaron Judge, came into Progressive Field and finished off the Indians, who won 102 games during the regular season, ripped off a historic 22-game streak and were favored to get back to the World Series after losing in seven games a year ago to the Chicago Cubs. Cleveland's Series drought turns 70 next year, baseball's longest dry spell.
Tonight
Chicago Cubs at Washington Nationals, 8:08 p.m.                        (Series tied 2-2)
MLB – Red Sox fire Farrell
The Boston Red Sox have fired manager John Farrell after five seasons, three division titles and one World Series championship. Farrell's status with the team became shaky after the Bosox dropped their division series for the second straight year, eliminated by the Astros on Monday after being swept by the Indians in 2016. Farrell was 432-378 as manager.
NHL – National Hockey League
Tonight
Minnesota Wild at Chicago Blackhawks, 8:30 p.m.
Detroit Red Wings at Arizona Coyotes, 10:00 p.m.
NFL – National Football League – Week 6
Tonight
Philadelphia Eagles at Carolina Panthers, 8:25 p.m.           95.7 & 1400 WSJM Sports 8:00
NFL – Stafford practices for Lions despite ankle issue
Detroit quarterback Matthew Stafford was able to practice Wednesday despite a right ankle issue that had him limping late in last weekend's game against Carolina. The Lions said Stafford participated in a full practice. When asked beforehand about his status for Sunday's game at New Orleans, he said: "You guys can figure it out through the week." Stafford was sacked six times in last weekend's game, but he threw two late touchdown passes in a rally that fell just short. Carolina won 27-24.
NFL – Lions put DT Ngata on IR, sign DT Reid and DE Jones
The Detroit Lions have put defensive tackle Haloti Ngata on injured reserve.  Ngata left Sunday's game against the Carolina Panthers with an elbow injury. He had two sacks in five starts this year.  The Lions signed defensive tackle Caraun Reid and defensive end Datone Jones. They also cut linebacker Thurston Armbrister on Wednesday. Reid had a season-ending knee injury last season with the San Diego after playing in Detroit the previous two seasons.  The Minnesota Vikings put Jones on injured reserve last month before the season started. Green Bay drafted Jones No. 26 overall in 2013 and he had nine sacks with the Packers. Detroit needs depth at defensive end because Ezekiel Ansah has been limited by a knee injury.
NFL – Luck expected to work out with Colts twice this week
Andrew Luck will be back on the Colts' practice field Thursday and Saturday this week. Coach Chuck Pagano gave the update during a conference call Wednesday.  Pagano described Luck's progression as "coming along good."  The Colts' quarterback returned to practice last Wednesday, the first time he's worked out with his teammates since having surgery on his throwing shoulder in January. So far, Luck has been limited to throwing every other day. Indy (2-3) was off on Tuesday and Wednesday as it prepares for Monday's matchup at Tennessee.  In his latest update, Pagano said Luck's strength was improving, but that he wouldn't risk a setback by rushing his best player back too quickly.
NFL – LeBron aggravates ankle injury; opener vs. Celtics in doubt
LeBron James won't play again in the preseason because of a sprained left ankle and his status for the Cleveland Cavaliers' season opener is in question. James aggravated his ankle while making his exhibition debut Tuesday night against Chicago. He scored 17 points and had eight turnovers as the Cavaliers fell to 0-4. He did not practice Wednesday and coach Tyronn Lue said the four-time MVP won't practice Thursday or play in Friday's preseason finale at Orlando. The Cavs open the regular season on Tuesday against the Boston Celtics and former Cleveland guard Kyrie Irving. Lue was noncommittal when asked if James will be ready for the game, saying "I'm not sure." Lue said James is "pretty mad" about the injury. Cleveland's new starting lineup, James, Derrick Rose, Dwyane Wade, Jae Crowder and Kevin Love, looked mostly out of sync in James' debut.
NCAA Men's Basketball – NCAA to form commission in response to bribery scheme
The NCAA says former Secretary of State Condoleezza Rice will head a newly-formed commission to study the inner workings of college basketball. The commission is in response a federal investigation into bribery and fraud that rocked the sport and implicated several assistant coaches. Federal complaints revealed in New York accused coaches, financial managers and an Adidas executive of trying to influence players on choosing schools and financial advisers.
NCAA Football – Auburn hires firm to investigate alleged academic fraud
Auburn has hired a law firm to review allegations that a part-time academic staffer took an online test for a football player. ESPN's Outside the Lines reported Wednesday that a mentor took the final exam for a player from the 2016 team. An Auburn spokesman confirmed that the university has hired Birmingham law firm Lightfoot, Franklin & White to look into the allegation. President Steven Leath said in a statement that an independent investigation hasn't found any evidence supporting the allegations, but that he is "actively engaged as the investigation continues." An athletic department statement says the player had returned to school to complete his degree and denies the allegation. The Birmingham law firm is already looking into the softball and men's basketball programs for unrelated issues.  Auburn said the part-time staffer who reported the allegation was placed on administrative leave in August.
Soccer – Lloyd back for US women against South Korea
Carli Lloyd is back with the U.S. women's national team after sitting out a pair of games with a left ankle sprain.  U.S. coach Jill Ellis named 22 players, including Lloyd, to her roster in advance of two games against South Korea this month. The teams meet Oct. 19 in New Orleans and Oct. 22 in Cary, North Carolina.  Lloyd, the two-time FIFA World Player of the Year, missed a pair of U.S. exhibition wins over New Zealand last month. She sprained the ankle on Aug. 13 in a National Women's Soccer League match between the Houston Dash and FC Kansas City.  Also returning to the U.S. roster is Stanford senior Andi Sullivan. She had ACL surgery in November.
MHSAA – High School Sports
Yesterday
Girls Volleyball
Niles 3, St. Joseph 0
Mattawan 3, Battle Creek Central 0
Boys Soccer
Parchment 2, Lake Michigan Catholic 1
Dowagiac 2, Paw Paw 2 – TIE
Vicksburg 5, Three Rivers 0
Sturgis 2, Edwardsburg 2 – TIE
Girls Golf – Regionals
Division 3 at Island Hills (Sturgis host)
Team Standings
Sturgis                    375     State qualifier
Lakeshore                 396     State qualifier
Niles                       411     State qualifier
Three Rivers             423
Allegan                    432
Dowagiac                 459
Otsego                    467
South Haven             471
Vicksburg                 540
Plainwell (no team score)
Individual Qualifiers
1. Erin Taylor (Three Rivers)     85      State qualifier
2. Carley Mielke (South Haven) 89      State qualifier
3. Heidi Hines (Three Rivers)    91      State qualifier
Lakeshore
4          Regan Holgate               90
10        Lydia Augnst                 99
11        Karna Johnson               100
21        Kate Miller                   107
26        Avery Adams                  110
Niles
13        Aynslee Myer                 101
15        Elizabeth Clark             102
15        Katie Bruckner              102
20        Zoe Brawley                  106
35        Skyler Brawley              130
South Haven              
3          Carley Mielke                89
31        Abby Bocock                  122
42        Sarah Helm                   151
45        Jina Patel                      157
25        Makenzie Marr               109
Tonight
Girls Volleyball
Vicksburg at Edwardsburg, 6:00 p.m.
Sturgis at Otsego, 6:00 p.m.
Paw Paw at Plainwell, 6:00 p.m.
Dowagiac at South Haven, 6:00 p.m.
Allegan at Three Rivers, 6:00 p.m.
Bangor at Fennville, 6:30 p.m.
Boys Soccer
Otsego vs. Plainwell, 6:45 p.m.
Three Rivers at Delton-Kellogg, 6:00 p.m.
Hopkins at South Haven, 6:30 p.m.
Marcellus at Brandywine, 5:00 p.m.
Howardsville Christian at Bridgman, 5:00 p.m.
Cross Country
St. Joseph, Lakeshore, Niles at Dowagiac Rock-N-Run, 5:00 p.m.
Girls Swimming and Diving
South Haven at Bridgman/Lakeshore, 6:00 p.m.
Plainwell at St. Joseph, 6:00 p.m.
Girls Golf – Regionals
Division 2 at Stonehedge North (Gull Lake host)
St Joseph, Battle Creek Lakeview, Byron Center, Coldwater, Holland, Mattawan, Portage Central, Portage Northern, Gull Lake, Zeeland East, Zeeland West
Division 4 at Milham Park (Kalamazoo Hackett host)
Lake Michigan Catholic, Grand Rapids NorthPointe Christian, Grand Rapids West Catholic, Grandville Calvin Christian, Kalamazoo Christian, Comstock, Kalamazoo Hackett, Kent City, Montague, Muskegon Western Michigan, North Muskegon