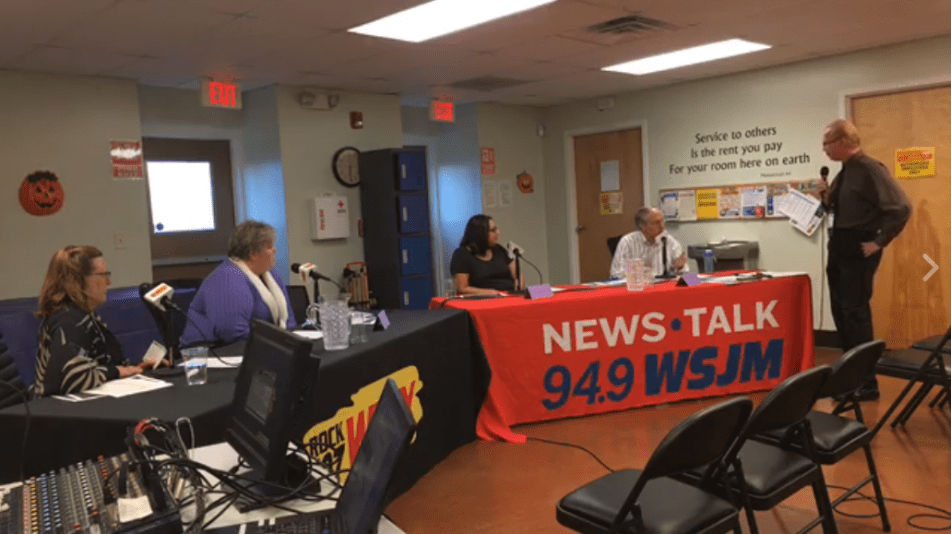 Ray Gustafson of our sister station News/Talk 94.9 WSJM moderated a special Suicide Prevention Town Hall held Tuesday (October 17) at the Mi-Journey Drop-In Center, featuring panelists from the community. The event aired live on ROCK 107 WIRX and WSJM News, along with Facebook live without commercial interruption to shed light on the troubling statistics and stories of loss, and movement forward for those in need of help.
Panelists for the evening included Michelle Olson of Riverwood Center, Anna-Magdalena Christianson representing MI-JOURNEY, Trent Watford of the Berrien County Suicide Prevention Coalition, and Denise Haskins, who lost a parent and a son to suicide.
Mi-Journey is the 2017 WIRX ROCK ALLIANCE benefactor, helping those with serious mental health challenges seek the help and recovery they need to live a better life.
Some of the resources mentioned by the panelists and members of the audience included:
If you or someone you know is in crisis, call 911 immediately. Do not wait. Or go to the nearest emergency room
MI-JOURNEY Drop-In Center at 2460 M-139 Suite B in Benton Harbor. (269) 944-9448. Online at https://www.mi-journey.org/
The National Suicide Prevention Hotline at (800) 273-TALK (8255)
SAMHSA – The Substance Abuse and Mental Health Services Administration at (800) 985-5990
Berrien CARES: Suicide Prevention Coalition at http://www.berriencares.org/
Riverwood Center in Benton Harbor & Niles. Call (269) 925-0585 or 684-4270 and online at http://www.riverwoodcenter.org/
Healthy Men Michigan: http://healthymenmichigan.org/
TEXT FOR HELP: 741741 on your cell phone
TEXT FOR HELP: 66746 on your cell phone "Talk with Us" Network
Use the 'I Need Help' Resource on Facebook.com or the Facebook app
Sacred Heart Serenity Hills – Substance Abuse Inpatient Treatment and Rainbows of Recovery at the OutCenter. Contact Laura Steinke (Peer Recovery Coach) at (269) 605-3941
You can watch and share this Facebook Live video recording of the event here. Please note that there is no audio in the beginning of the video. You can scroll ahead and the event will start:
Podcast:
Podcast: Play in new window | Download | Embed
Subscribe: Apple Podcasts | Android | Email | Google Podcasts | Stitcher | TuneIn | RSS | More