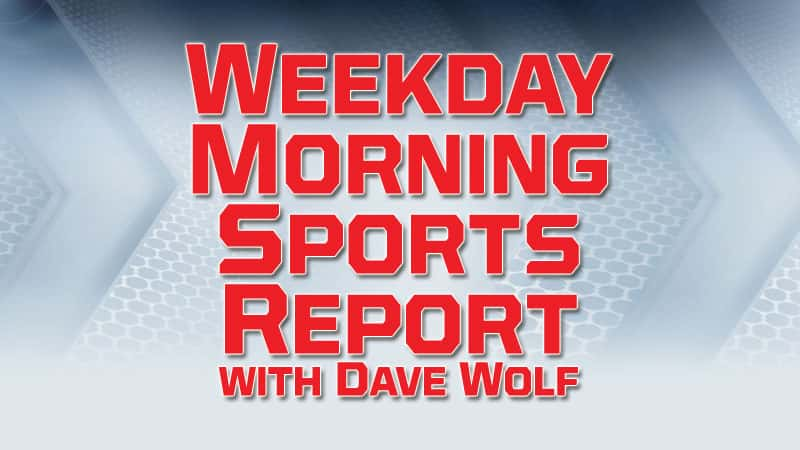 95.7 & 1400 WSJM Sports     @wsjmsports     wsjmsports.com     Tuesday, November 14, 2017
NFL – National Football League – Week 10
Yesterday
Carolina Panthers 45, Miami Dolphins 21
Panthers 45, Dolphins 21 – Panthers thump Dolphins
The Carolina Panthers are 7-3 and a half-game off the NFC South lead after rolling up a team-record 548 total yards in a 45-21 pounding of the Miami Dolphins. Cam Newton provided much of that yardage by providing 254 yards through the air and 95 on the ground. Newton also threw two of his four scoring passes to Devin Funchess, who had five receptions for 92 yards.
NFL – Bears coach not worried
Chicago Bears coach John Fox says he isn't worried about his job security, even though the veteran coach came under increasing criticism following the team's 23-16 loss Sunday to the Green Bay Packers, who played without star quarterback Aaron Rodgers, who is on the injured list.
NCAA Men's Basketball – College Basketball
Yesterday
Michigan 72, Central Michigan 65
(13) Notre Dame 88, Mount St. Mary's 62
South Carolina 78, Western Michigan 60
Michigan 72, CMU 65 – Abdur-Rahkman scores 17 in Michigan's 72-65 win over Chips
Muhammad-Ali Abdur-Rahkman scored 17 points, helping Michigan escape with a 72-65 win over Central Michigan on Monday night. Charles Matthews and Zavier Simpson each scored 13, and Moritz Wagner added 10 points and 11 rebounds for the Wolverines, who improved to 22-3 all-time against Central Michigan. Shawn Roundtree had 21 points on 7-of-11 shooting, including 4 of 6 from 3-point range, to lead the Chippewas. Luke Meyer added 12 points. Michigan, which led 32-31 at halftime, built a 62-53 lead after a Matthews steal and dunk with 4 minutes left. Simpson's 3-pointer made it 67-58 with 2 minutes left. Central Michigan was competitive from the opening tip, leading by eight on four different occasions in the first half. After Michigan took a 3-2 lead, the Chippewas went on a 9-0 run, capped by Matt Beachler's 3-pointer, to take an 11-3 advantage.
(14) Notre Dame 88, Mt. St. Mary's 62 – Colson, Pflueger notch double-doubles as Notre Dame rolls
Bonzie Colson had 27 points, 11 rebounds and three blocks while No. 13 Notre Dame shook off a choppy opening half to roll past Mount St. Mary's 88-62 in the Irish's home opener Monday night. It was the 25th career double-double of his career. Rex Pflueger added his first with 14 points and 10 rebounds. Matt Farrell chipped in 12 points and five assists as ND improved to 18-0 in home debuts under coach Mike Brey. Colson, an Associated Press preseason All-American, went 11-of-15 from the field and 4-of-4 at the line. Junior Robinson, the Mountaineers' 5-foot-5 senior guard, led the visitors with 14 points, but had just two after halftime. Freshman Bobby Planutis added 11 points and seven boards.
S. Carolina 78, WMU 60 – South Carolina slips past Western Michigan 78-60
South Carolina doubled down on a season opening victory, claiming a 78-60 home win Monday night over Western Michigan in its second encounter. The Gamecocks managed to get a bit of breathing room late in the first half, opening a nine-point lead at the break. They remained on top throughout the second half, gradually increasing the lead. The inside duo of Chris Silva and Maik Kotsar dominated action inside, allowing USC to connect on 26 of 57 field goals, while holding Western Michigan to 21 of 58. Hassani Gravett hit three late 3-pointers to allow South Carolina's advantage to grow to as much as 19. He led the Gamecocks in scoring with 15. Frank Booker followed with 14, while Silva and Kotsar each scored 10 and hauled in a combined 13 rebounds. Western Michigan's Thomas Wilder led all scorers with 21, earning most of his points driving to the basket. Bryce Moore and Josh Davis followed with 12 and 11 points respectively.
Tonight
(1) Duke vs. (2) Michigan State, 7:00 p.m. at United Center, Chicago     Superhits 103.7 Cosy-FM 6:00
NCAA Women's Basketball – College Basketball
Yesterday
Eastern Michigan 62, Rochester College 29
Michigan State 95, Oakland 63
Tonight
Vanderbilt at Central Michigan, 7:00 p.m.
(6) Notre Dame at Western Kentucky, 8:00 p.m.
MLB – Bellinger, Judge take top rookie honors
Los Angeles Dodgers first baseman Cody Bellinger is the unanimous winner of the National League Rookie of the Year Award after batting .267 with 39 home runs and 97 RBIs last season. Bellinger is the second consecutive Dodger to receive the honor and the 18th since Jackie Robinson won the first award in 1947. St. Louis middle infielder Paul DeJong (deh-YUHNG') finished second and Pittsburgh first baseman Josh Bell was third in the voting conducted by the Baseball Writers' Association of America. In the American League Aaron Judge has become the first New York Yankee since Derek Jeter in 1996 to win the Rookie of the Year Award. Judge won the award unanimously in voting by the Baseball Writers' Association of America after leading the AL with a rookie-record 52 home runs last season. Boston outfielder Andrew Benintendi finished second in the balloting, followed by Baltimore slugger Trey Mancini.
MLB – Marlins have Stanton on the market as GM meetings start
The Miami Marlins will spend this week's general managers' meetings shopping Giancarlo Stanton, the pricey slugger who led the major leagues with 59 home runs but does not fit into the plans of the new payroll-paring baseball operations staff headed by former New York Yankees star Derek Jeter.  As the meetings began Monday, Marlins president of baseball operations Mike Hill said, "I think over the next few days I'll get a feel for what the marketplace is for our players." Stanton, who turned 28 last week, is owed $295 million over the final decade of his record $325 million, 13-year contract. He has a full no-trade provision, so he can determine his destination. Hill said, "I do have a sense, and we'll keep that internal, and at the appropriate time we'll discuss whatever we need to discuss."
FIFA – World Cup 2018 – Italy to stay home for World Cup
Four-time champion Italy has failed to qualify for the World Cup for the first time in six decades.  The Italians lost its playoff to Sweden 1-0 on aggregate after playing to a scoreless draw on Monday. Italy's only other exclusion in World Cup was in 1958. Sweden has advanced to the World Cup for the first time since 2006.
WNBA – Las Vegas wins WNBA draft lottery
Las Vegas won the WNBA draft lottery and will have the No. 1 pick. Indiana will pick second while Chicago will go third and fourth. The Sky acquired the third pick from the Atlanta Dream in a trade.  Las Vegas had the best odds (44 percent) to win Monday's lottery after finishing with the combined worst record the past two seasons while the franchise was in San Antonio. It's the second consecutive year that the franchise has the top pick. The Stars took Kelsey Plum No. 1 last season. Chicago had the second-best opportunity to get the top choice with just over a 28 percent chance. Indiana had a 27.6 percent chance. With a stellar senior class, this should be a pretty deep draft headlined by South Carolina star A'ja Wilson.
AHL – American Hockey League
Today
Grand Rapids Griffins at San Antonio Rampage, 11:30 a.m.
ECHL – East Coast Hockey League
Tonight
Toledo Walleye at Indy Fuel, 7:05 p.m.
MHSAA – High School Sports
Tonight
Girls Volleyball Quarterfinals
Class B at East Lansing
Niles vs. Lake Odessa-Lakewood, 7:00 p.m.