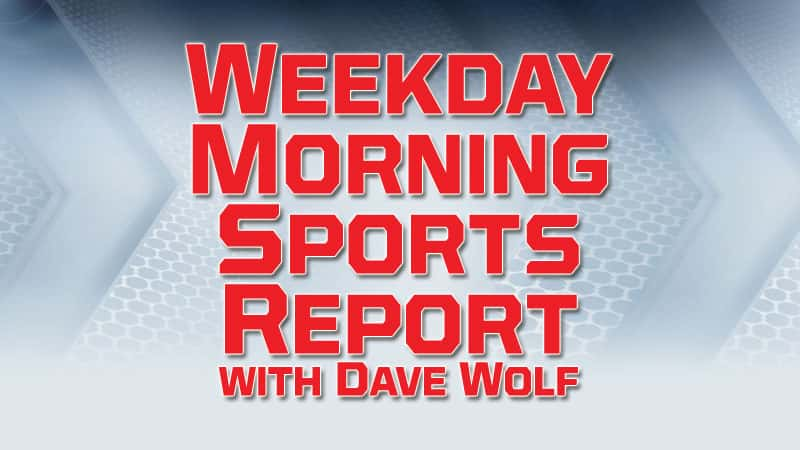 95.7 & 1400 WSJM Sports     @wsjmsports     wsjmsports.com     Tuesday, December 05, 2017
NFL – National Football League – Week 13
Yesterday
Pittsburgh Steelers 23, Cincinnati Bengals 20
Steelers 23, Bengals 20 – Steelers rally for 10th win
Chris Boswell kicked a 38-yard field goal as time expired to complete the Pittsburgh Steelers' comeback from a 17-0 deficit in a 23-20 win at Cincinnati. Antonio Brown grabbed the game-tying touchdown pass with 3:51 remaining, hauling in a six-yard throw and taking a hit to the head while landing in the end zone. Ben Roethlisberger threw for 290 yards and Le'Veon Bell had 182 total yards as the 10-2 Steelers extended their best start since 2004.   The Steelers lost leading tackler Ryan Shazier to a back injury in the first quarter. Shazier was carted off the field and taken to a hospital for evaluation.  Bengals linebacker Vontaze Burfict was carted off in the fourth quarter after JuJu Smith-Schuster leveled him with a high hit, then taunted him by walking over him.
NFL – Giants coach and GM are out
The New York Giants have fired head coach Ben McAdoo and general manager Jerry Reese following a 2-10 start, one season after making the playoffs. The dismissals came less than a day after the Giants lost in Oakland, with quarterback Eli Manning benched and the offensively inept team performing poorly again. Defensive coordinator Steve Spagnuolo will serve as interim coach for the final four games and will decide whether Manning will return to the starting lineup.
NFL – Gronk suspended
Patriots tight end Rob Gronkowski has been given a one-game suspension by the NFL for his late hit to the head of Buffalo defensive back Tre'Davious White on Sunday.  White had just intercepted a pass and was lying face down on the sideline when Gronkowski body-slammed him, driving his forearm into White's back and head.  Bills coach Sean McDermott says White has entered the concussion protocol.  Gronkowski plans to appeal a suspension that would keep him from playing next Monday at Miami.
NCAAMBB – NCAA Basketball – Men's
Last Night
Ohio State 71, Michigan 62
Ohio State 71, Michigan 62 – Furious rally powers Ohio State to 71-62 win over Michigan
Keita Bates-Diop scored 18 and C.J. Jackson added 17 as Ohio State rallied in the second half to beat Michigan 71-62 on Monday night. The Buckeyes trailed by as many as 19 points in the first half and didn't lead until 7 1/2 minutes had ticked off in the second, when Bates-Diop hit a pair of foul shots to make it 47-46. Ohio State (7-3, 2-0 Big Ten) turned on the defense in the second half while sprinting out on a blistering 19-3 run, following a 7-0 burst to end the first half. A Kam Williams jumper with 3:32 left in the game tied it at 60, and Ohio State hit 11 free throws and pulled away, thanks in part to some poor Michigan shooting. Moritz Wagner led the way for Michigan with 14 points, and Zavier Simpson and Muhammad-Ali Abdur-Rahkman each added 11. The Wolverines (7-3, 1-1 Big Ten) led 43-30 at the half with six different players hitting a 3-pointer, and Wagner hitting 2 of 3 attempts. Michigan led by as many as 20 in the half, but the 7-0 run _ capped by a monster dunk by JaeSean Tate _ pulled it closer.
Tonight
(3) Michigan State at Rutgers, 7:00 p.m.                            Superhits 103.7 Cosy-FM 6:00
Montana State at Central Michigan, 7:00 p.m.
NCAA Football – Mayfield, Jackson, Love are Heisman hopefuls
Oklahoma quarterback Baker Mayfield, Louisville signal-caller Lamar Jackson and Stanford running back Bryce Love are the finalists for the Heisman Trophy, which will be presented Saturday in New York. Mayfield comes in as the clear front-runner, and Jackson is trying to join former Ohio State tailback Archie Griffin as the only players to win two Heisman trophies. Mayfield finished fourth in the voting two years ago and was third last season.

NBA – National Basketball Association
Last Night
Indiana Pacers 115, New York Knicks 97
Cleveland Cavaliers 113, Chicago Bulls 91
San Antonio Spurs 96, Detroit Pistons 93
Pacers 115, Knicks 97 – Thaddeus Young scored 20 to help Pacers rout Knicks 115-97
Thaddeus Young scored 20 points to lead seven Indiana players in double figures as the Pacers routed the short-handed New York Knicks 115-97 on Monday night.  Bojan Bogdanovic scored 19 points and Victor Oladipo added 16 for the Pacers (13-11), who led by 26 at half and 95-65 after three quarters.  The Knicks (11-12) were without leading scorers Kristaps Porzingis (25.8 ppg)
and Tim Hardaway Jr. (17.8 ppg) for a second consecutive loss. Porzingis is dealing with a sprained right ankle and illness and Hardaway has a lower left leg injury. Michael Beasley led the Knicks with 13 points.
Cavaliers 113, Bulls 91 – Wade, Love, James lead surging Cavaliers over Bulls 113-91
Dwyane Wade and Kevin Love each scored 24 points, LeBron James had 23 and the Cleveland Cavaliers beat the Chicago Bulls 113-91 Monday night for their 12th straight win.  Backed by a trio of stars, the Cavaliers matched their longest winning streak since the 2014-15 season. Wade made 9 of 13 shots in his first game in Chicago since agreeing to a buyout with his hometown team in late September. Love grabbed 13 rebounds and made 8 of 13 from the field. James finished 9 of 15 with seven rebounds and six assists. The Cavaliers shot just under 52 percent.  Kris Dunn led Chicago with 15 points. Robin Lopez and Justin Holiday scored 14 apiece as the Bulls fell to 3-19 with their ninth straight loss.
Spurs 96, Pistons 93 – Aldridge's double-double rallies Spurs past Pistons 96-93
LaMarcus Aldridge had 17 points and 10 rebounds and the San Antonio Spurs rallied to beat the Detroit Pistons 96-93 on Monday night. Reggie Jackson had 27 points for Detroit, which led by as many as nine points before dropping its third straight. The Spurs were without Kawhi Leonard and Kyle Anderson, who has started in place of Leonard all season.  Andre Drummond finished with 11 points and 15 rebounds for his 17th double-double in Detroit's 23 games this season. Jackson had 20 points in the first half and Detroit shot 48 percent against the league's second-best defense statistically through two quarters. The Spurs held the Pistons to 41 percent shooting to close the game.
NHL – National Hockey League
Tonight
Winnipeg Jets at Detroit Red Wings, 7:30 p.m.
NHL – Sabres waive Moulson get Wings' Wilson
The Buffalo Sabres have placed Matt Moulson on waivers and acquired fellow forward Scott Wilson from the Red Wings.  Moulson was waived for the purpose of being demoted after scoring no points in 14 games.  The Red Wings get a fifth-round pick in the 2019 draft for Wilson, who is scoreless in 20 games this season.
NCAA Basketball – Women's
Last Night
(24) Michigan 86, Detroit Mercy 50
(24) Michigan 85, UDM 50 – Flaherty scores 26, No. 24 Michigan women beat Detroit Mercy
Katelynn Flaherty scored 22 of her 26 points in the first half and No. 24 Michigan cruised by Detroit Mercy 86-50 on Monday night at Calihan Hall. Michigan won the 2017 WNIT title, 89-79 in three overtimes, on the same court. Michigan trailed 17-7 midway through the first quarter but took over in the second by outscoring Mercy 27-8 for a 19-point halftime lead. The Wolverines opened the third on a 10-0 run, with four points from Hallie Thome, for a 57-28 lead. It was 70-40 entering the fourth. Nicole Munger added 13 points, Deja Church had 12 and Thome finished with 11 for Michigan (6-2). Jillian Dunston had 10 rebounds, four assists and three steals as the Wolverines controlled the glass 47-25.

2nd blast brings down upper section of Pontiac Silverdome
The second time was the charm for a partial implosion of the Pontiac Silverdome _ the former home of the Detroit Lions. Demolition company Adamo brought down the upper section of the Silverdome on Monday, one day after some explosive charges failed to detonate. Company officials said wiring issues were the culprit of Sunday's failed attempt, which disappointed thousands of onlookers who'd braved cold temperatures in hopes of seeing a dramatic collapse. The Lions played at the suburban Detroit facility from 1975 through 2001. The Silverdome also was the home of the NBA's Detroit Pistons and hosted the Super Bowl in 1982. During its lifetime, the indoor, 80,000-plus seat stadium also hosted Super Bowl XVI, Wrestlemania III, a visit by Pope John Paul II and various motorsport events.
MHSAA – MHSAA Switching start dates for girls and boys basketball in 2018
The MHSAA announced that for the 2018-19 winter season, the start dates for girls and boys basketball seasons will switch.   Boys basketball will now start the week after Thanksgiving while the girls will start in the following week.  It was the other way around since girls basketball was moved from the fall to winter nearly a decade ago.   The MHSAA is citing the availability of the Breslin Center at Michigan State University for the move.  The issue is the possibility of the Spartans Women's Basketball team hosting the NCAA Tournament.  The week that MSU would host the NCAA tournament is the week that the boys finals was originally scheduled.   The move allows the MHSAA to continue to host the boys finals at the Breslin Center.  The Girls finals this season will be held at Van Noord Arena at Calvin College in Grand Rapids.   The MHSAA says that the Breslin Center is the only available arena in Michigan large enough to host the boys semifinals and finals.
MHSAA – High School Sports
Last Night
Boys Basketball
Lake Michigan Catholic 71, Eau Claire 32
Burr Oak 68, White Pigeon 57
Bronson 67, Battle Creek St. Philip 44
Tonight
Boys Basketball
Benton Harbor at Dowagiac, 7:15 p.m.  WSJM Sports
St. Joseph at B.C. Harper Creek, 7:00 p.m.
South Haven at Lakeshore, 7:00 p.m.
Bangor at Michigan Lutheran 7:30 p.m.
Decatur at River Valley, 7:30 p.m.
Niles at Three Rivers, 7:15 p.m.
Comstock at Vicksburg, 7:15 p.m.
Jackson at Battle Creek Central, 7:00 p.m.
Gull Lake at Otsego, 7:00 p.m.
Plainwell at Portage Northern, 7:15 p.m.
Parchment at Allegan, 7:00 p.m.
Mattawan at Paw Paw, 7:15 p.m.
Covert at New Buffalo, 7:30 p.m.
Schoolcraft at Berrien Springs, 7:15 p.m.
Countryside at Bridgman, 7:30 p.m.
Buchanan at Coloma, 7:00 p.m.
Saugatuck at Brandywine, 7:00 p.m.
Centreville at Constantine, 7:00 p.m.
Bloomingdale at Kalamazoo Christian, 7:00 p.m.
Gobles at Marcellus, 7:00 p.m.
Girls Basketball
St. Joseph at Edwardsburg, 7:00 p.m.
Dowagiac at Benton Harbor, 7:15 p.m.
Michigan Lutheran at Watervliet, 6:00 p.m.
Grace Christian at Lake Michigan Catholic, 6:00 p.m.
South Haven at Gobles, 7:00 p.m.
Three Rivers at Niles, 7:15 p.m.
Paw Paw at Mattawan, 7:00 p.m.
Allegan at Parchment, 7:00 p.m.
Battle Creek Central at Jackson, 7:00 p.m.
Portage Northern at Plainwell, 7:15 p.m.
Sturgis at Schoolcraft, 7:00 p.m.
Covert at New Buffalo, 6:00 p.m.
Buchanan at Coloma, 5:30 p.m.
Hopkins at Comstock, 5:30 p.m.
Saugatuck at Brandywine 5:30 p.m.
Cassopolis at Bangor, 6:00 p.m.
Mendon at Bloomingdale, 7:30 p.m.
Marcellus at Decatur, 7:30 p.m.
Hartford at Eau Claire, 6:00 p.m.