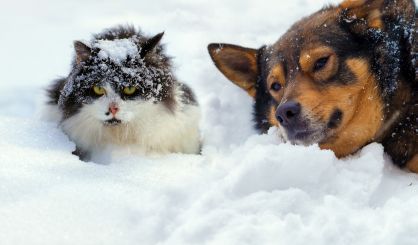 If you've got a pet, animal experts say you need to be extra aware of its safety in this cold weather. Berrien County Animal Control Director Tiffany Peterson tells WSJM News your dog should not be left outside, especially if it's not used to the cold.
"Animals can acclimate to certain temperatures, and if you keep them in for a long period and then throw them back outside again, they're going to freeze," Peterson said. "Their fur or hair grows to the conditions that they're in."
If a dog is left outside, it at least needs a dog house.
"It's got to have shelter," Peterson said. "It's always got to have shelter. We have pulled animals, we have pulled a few dogs. If they don't have a dog house or a proper shelter and we know they're out there for a long period of time, we're going to pull it. The owner can come in here and maybe we can educate the, a little bit and then release the dog."
Peterson tells us the dog also needs straw. Blankets are no good because they can get wet and freeze. As for cats, if you want to help an outdoor kitty, leave a styrofoam cooler with some Mylar or straw in it outside. Don't forget to cut a hole in it. Anyone who needs help caring for a critter this week can call a shelter. Berrien County Animal Control's number is 269-927-5648.