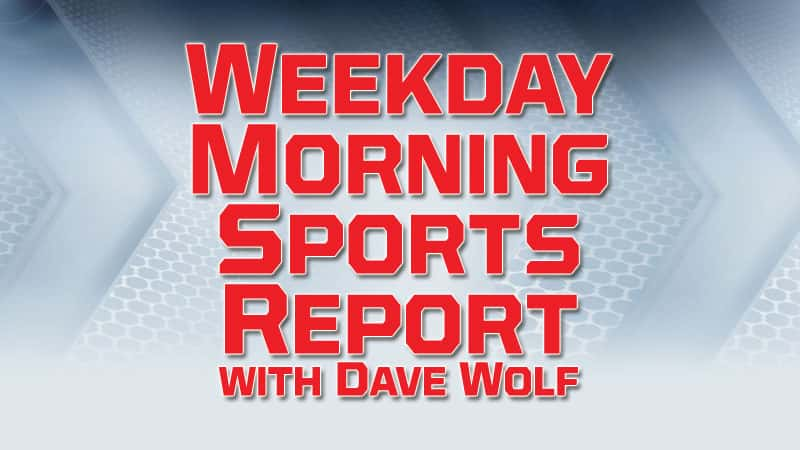 95.7 & 1400 WSJM Sports     @wsjmsports     wsjmsports.com     Wednesday, January 10, 2018
NCAAMBB – Men's College Basketball
Last Night
(5) Purdue 70, Michigan 69
Toledo 84, Western Michigan 61
Eastern Michigan 79, Central Michigan 74
(5) Purdue 70, Michigan 69 – Haas' free throw gives No. 5 Purdue 70-69 win over Michigan
Isaac Haas made a tiebreaking free throw with four seconds remaining and No. 5 Purdue remained unbeaten in the Big Ten with a 70-69 victory over Michigan on Tuesday night. The Boilermakers (16-2, 5-0 Big Ten) have won 12 in a row, while the Wolverines had their seven-game winning streak snapped. Purdue is 5-0 in conference play for the first time since 1989-90. A tight, back-and-forth second half came to a standstill in the final seconds when Michigan's Charles Matthews had the ball knocked away while driving to the basket. The ball was originally awarded to the Wolverines (14-4, 3-2) but after a long replay review, officials changed the call and gave possession to Purdue with 6.2 seconds left.
Toledo 84, WMU 61 – Toledo jumps out early, beats Western Michigan 84-61
Tre'Shaun Fletcher had 21 points and Toledo rolled to an 84-61 victory over Western Michigan on Tuesday night.  Fletcher made four 3-pointers and finished 8-of-12 shooting from the field, and
added eight rebounds and eight assists. Luke Knapke and Jaelan Sanford chipped in 16 points apiece, and Marreon Jackson had 13 for Toledo (10-6, 2-1 Mid-American Conference). Thomas Wilder had 28 points, 10 rebounds, four assists and four steals to lead Western Michigan (10-6, 2-1). Bryce Moore added 16 points.
EMU 79, CMU 74 – Minnie has hot finish to lead Eastern Mich. to 79-74 win
Elijah Minnie scored 14 of his 25 points in the final minutes and James Thompson IV added 17 points with 12 rebounds as Eastern Michigan held off Central Michigan 79-74 for its first Mid-American Conference win on Tuesday night.  Thompson scored six points to start the second half as Eastern Michigan broke a 38-38 halftime tie to go ahead 52-46 following a 14-8 sprint. Gavin Peppers
nailed a trey to tie at 56-56 with 8:59 remaining.  Minnie drilled a 3-pointer, had a tip-in and nailed two more from distance to give Eastern Michigan a 72-65 lead with 3:16 left. Minnie dunked and hit a free throw in the final seconds.
Tonight
Rutgers at (4) Michigan State, 7:00 p.m.        Superhits 103.7 Cosy-FM 6:00
Notre Dame at Georgia Tech, 7:00 p.m.
NCAAWBB – Women's College Basketball
Tonight
Indiana at (23) Michigan, 7:00 p.m.
Eastern Michigan at Kent State, 7:00 p.m.
Northern Illinois at Western Michigan, 7:00 p.m.
Bowling Green at Central Michigan, 7:00 p.m.
NCAA Football – Notre Dame promotes Clark Lea to defensive coordinator
Notre Dame is promoting linebackers coach Clark Lea to defensive coordinator, replacing Mike Elko, who left for Texas A&M last week. The team announced the move Tuesday night.  Lea came with Elko to Notre Dame from Wake Forest a year ago. Lea also worked with Elko at Bowling Green in 2012. The former Vanderbilt player started his coaching career at South Dakota State in 2007 and did stints at UCLA and Syracuse. This will be his first time as defensive coordinator. Notre Dame rebounded from a four-win 2016 to go to 10-3 in 2017.
NCAA Football – `Bama-Georgia draws 2nd-largest CFP championship TV audience
Monday's national championship showdown between Alabama and Georgia was the second-most watched title game in the four-year format of the College Football Playoff. More than 28.4 million viewers caught the Crimson Tide's 26-23 overtime win over the Bulldogs, up 13 percent from last season but about six million shy of the first CFP title game. The New Year's Six bowls and championship game drew an average of 17 million viewers, the most in four years of the format.
NHL – National Hockey League
Last Night
Chicago Blackhawks 8, Ottawa Senators 2
Blackhawks 8, Senators 2 – Patrick Kane has goal, 4 assists as Blackhawks rout Sens 8-2
Nick Schmaltz and Jonathan Toews each scored a pair of goals and Patrick Kane had a goal and four assists Tuesday night and the Chicago Blackhawks routed the Ottawa Senators 8-2. Richard Panik, Patrick Sharp and Jan Rutta also scored for the Blackhawks, while Anton Forsberg made 25 saves. Mark Stone and Derick Brassard scored for the Senators. Craig Anderson allowed four goals on 26 shots before giving way to Mike Condon, who also allowed four goals on 17 shots. The loss snapped Ottawa's two-game winning streak and was the worst loss of the season since an 8-3 defeat on Oct. 30 against Montreal.
NBA – National Basketball Association
Tonight
Miami Heat at Indiana Pacers, 7 p.m.
Chicago Bulls at New York Knicks, 7:30 p.m.
Detroit Pistons at Brooklyn Nets, 7:30 p.m.
NFL – Gruden welcomed back to Raiders 16 years after departure
Jon Gruden was welcomed back for a second stint as Oakland Raiders coach with an elaborate introductory news conference. Gruden was greeted by owner Mark Davis on Tuesday with a video of the highlights from his first tenure in Oakland nearly 20 years after he was first introduced as coach as an unproven 34-year-old by late owner Al Davis. Gruden coached the Raiders from 1998-2001 before being traded to Tampa Bay 16 years ago. About 50 former Raiders were on hand for the event, including several of Gruden's former players like Charles Woodson, Jerry Rice, Tim Brown and Rich Gannon. Mark Davis said he had been trying to bring Gruden back for six years ever since taking over the franchise following his father's death and the opportunity was finally right this year.
Olympics – IOC welcomes North Korea competing at Olympics
The International Olympic Committee says it welcomes moves by North Korea to take part in next month's Winter Olympics in South Korea. IOC president Thomas Bach says in a statement that North Korea's decision to send a delegation to the games is "a great step forward in the Olympic spirit." The IOC says it's now waiting for official details of how North Korean participation could work before it decides which athletes could compete. South Korea's Vice Unification minister earlier cited North Korean officials as saying their delegation would include officials, athletes, cheerleaders and journalists.
University of Oklahoma gymnast says sports doctor abused her
A University of Oklahoma gymnast and former Olympic hopeful says she is among more than 100 women and girls who say they are victims of sexual abuse by a now-imprisoned Michigan sports doctor. OU sophomore Maggie Nichols said in a statement Tuesday that Dr. Larry Nassar molested her at the Karolyi Ranch Olympic training camp in Texas. She wrote: "He violated our innocence."
AHL – American Hockey League
Tonight
Grand Rapids Griffins at Manitoba Moose, 8:00 p.m.
MCCAA – Junior College Basketball
Tonight
Lake Michigan College at Mid-Michigan, 5:30 p.m. (Women)/7:30 (Men)  95.7 & 1400 WSJM Sports 5:30
MHSAA – High School Sports
Tonight
Boys Basketball
St. Joseph 59, Gull Lake 51
St. Joseph put four players in double digits as the Bears came up with a 59-51 road win at Gull Lake.  Cade Shimulunas had a game high 15 points for St. Joe.  Ryan Haynes had 12, while Mason Scramlin and Izak Ruddell added 10 each.  The Bears improve to 4-1 and will host Niles on Friday.
Kalamazoo Loy Norrix 45, Lakeshore 38
Dylan Clem had 13 points in Lakeshore's 45-38 loss at Kalamazoo Loy Norrix.  JJ Bushu added 9 points for the Lancers, who fall to 3-3. 
Mattawan 44, Niles 43
Austin Brookins had 18 points for the Vikings in a 44-43 loss at Mattawan.  Robert Brown added 12.
Dowagiac 71, South Haven 37
Dowagiac's Caleb Murphy, Demetrius Lanier, and Shaquan Stanback combined for 52 points Tuesday night, as the Chieftains romped to a 71-37 win over South Haven.  The Rams were led by Caleb Ford and Alex Brantley, who both scored 10 points in the loss.  South Haven returns to the court on Friday night at Edwardsburg.
Lake Michigan Catholic 73, River Valley 33
Tommy Koenig poured in a game high 18 points as Lake Michigan Catholic topped River Valley 72-33.   Leading by nine at the half, the Lakers pulled away in the third quarter, outscoring the Mustangs 25-6.  Corey Seger added 12 points for Catholic.  Davyd Bronson paced River Valley with ten. The win lifts Catholic to 5-1 on the season while the Mustangs fall to 2-7.
Michigan Lutheran 70, Covert 21
Roman Levi and Nick Mitchell had 13 and 10 points respectively as Michigan Lutheran picked up a 70-21 win at Covert.  Reynaldo Contreras had 11 points to lead Covert.
Coloma 85, Watervliet 59
Coloma remained unbeaten with an 85-59 win over rival Watervliet.  Zach Goodline had a game high 36 points as the Comets improve to 6-0.  Tevon Blazer chipped in 12 for Coloma.  Sheldon Tobar scored 13 to lead Watervliet.
New Buffalo 77, Countryside 51
Portage Central 45, Battle Creek Lakeview 36
Kalamazoo Central 42, Portage Northern 36
Three Rivers 64, Allegan 59
Otsego 63, Edwardsburg 49
Paw Paw 64, Sturgis 48
Plainwell 61, Vicksburg 59
Parchment 52, Delton-Kellogg 34
Kalamazoo Christian 51, Brandywine 41
New Prairie (IN) 45, Buchanan 42
Constantine 65, Gobles 55
Saugatuck 66, Lawrence 22
Centreville 84, Eau Claire 30
Cassopolis 67, Hartford 60
Decatur 46, Mendon 26
Bloomingdale 52, White Pigeon 49
Girls Basketball
St. Joseph 42, Gull Lake 33
The Lady Bears improve to 6-2 after defeated Gull Lake 42-33 at home last night.  Anna Fischer was one of two St. Joe players in double figures.  Fischer had 16 to lead St. Joe, while Katie Algyre scored 15.
Lakeshore 48, Kalamazoo Loy Norrix 37
Grace Meachem had a game high 12 points and Sam Pankratz added 11 to help lead Lakeshore to a 48-37 win over Kalamazoo Loy Norrix.   Lakeshore improves to 3-3 on the season.
Mattawan 40, Niles 37
Niles sophomore Alicia Patterson had a game high 21 points, but Niles still fell to Mattawan 40-37. 
Michigan Lutheran 63, Covert 14
Michigan Lutheran jumped out to a 23-0 lead after the first quarter and went on to beat Covert 63-14.  Sarah Jackemeyer had 14 points and 14 rebounds to lead the Titans.  Jessi Jewell added 12 in the win.  Michigan Lutheran is now 6-1 and 4-0 in the BCS-White.
Watervliet 38, Coloma 33
Watervliet picked up a 38-33 win at Watervliet.  Arianna Rowe led the Panthers with 15 points.  Morgan Wagner had 10 points in the loss for the Comets.
Battle Creek Lakeview 42, Portage Central 32
South Haven 40, Dowagiac 32
Three Rivers 47, Allegan 35
Edwardsburg 58, Otsego 55
Sturgis 37, Paw Paw 34
Plainwell 54, Vicksburg 44
New Buffalo 37, Countryside 32
Parchment 51, Delton-Kellogg 33
Comstock 49, Kalamazoo Hackett 36
Brandywine 39, Kal. Christian 36 – OT
Fennville 54, Bridgman 53 – OT
Gobles 39, Constantine 33
Saugatuck 42, Lawrence 39
Centreville 61, Eau Claire 2
Mendon 32, Decatur 30
Tonight
Boys Basketball
Fennville at Bridgman, 7:15 p.m.
Lakeshore at Portage Central, 6:00 p.m.
Wrestling
St. Joseph at Niles, 6:00 p.m.
Lakeshore at Portage Central, 6:00 p.m.
Paw Paw, Otsego, South Haven at Allegan, 6:00 p.m.
Dowagiac, Edwardsburg, Plainwell at Vicksburg, 6:00 p.m.
Three Rivers at Sturgis, 6:00 p.m.