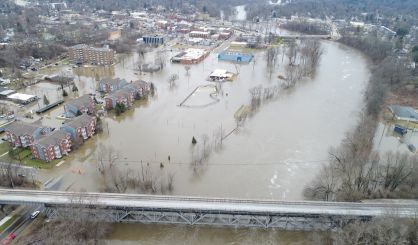 The U.S. Small Business Administration has approved a disaster declaration for four Michigan counties affected by severe flooding in February.
Governor Rick Snyder announced Friday the declaration covers Arenac, Berrien, Ingham, and Kalamazoo counties, along with the adjacent counties of Allegan, Barry, Bay, Branch, Calhoun, Cass, Clinton, Eaton, Gladwin, Iosco, Jackson, Livingston, Ogemaw, Shiawassee, St. Joseph, and Van Buren.
Residents and businesses that sustained uninsured, flood-related losses of 40% or more are eligible to apply for low-interest loans. The money could be used to repair or replace real estate, personal property, machinery and equipment and business assets that were damaged or destroyed.
Additional information is available at www.sba.gov .
The Berrien County Sheriff's Department tells us a Disaster Loan Outreach Center is scheduled to open 11 a.m. on Tuesday, April 3 in Berrien Springs at Berrien RESA to help applicants determine if they qualify for SBA loans. The center will be closing operations on Tuesday, April 10.  There are more details below.
DISASTER LOAN OUTREACH CENTER  –  BERRIEN COUNTY

Berrien Regional Education Service Agency – Conference Center (parking in rear)

711 St. Joseph Avenue

Berrien Springs, MI 49103-1583

Opening:             Tuesday, April 3, 2018

Hours:                 11:00 am – 6:00 pm

Day and              Wednesday (April 4) – Friday (April 6)

Hours:                 9:00 am – 6:00 pm

Saturday, April 7, 2018

10:00 – 2:00 pm

Closed:                Sunday, April 8, 2018

Closed all day Sunday

Closing:               Tuesday, April 10, 2018

9:00 am – 4:30 pm