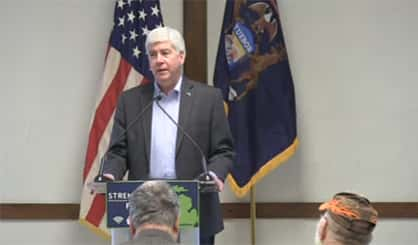 Governor Rick Snyder's strategy to fill more than 800,000 job openings was discussed Monday  in Jackson. Local business leaders and educators came together to give input on the proposed "Marshall Plan for Talent," as Snyder has called it.
"We're a leading state in this nation now in terms of job creation, personal income growth, and many other things, but we can do so much better," Snyder said. "It's not just for our benefit. It's for the benefit of our country. Our country is facing a huge national challenge about getting people connected to careers."
In an effort to fill jobs in high-demand fields, the Marshall Plan aims to fund $100 million to high school programs which sustain collaboration between the education and business sectors. Snyder announced the plan in February.