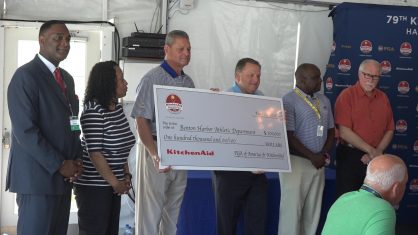 Benton Harbor High School will soon be adding a new sport, and it's in large part thanks to the PGA of America and KitchenAid. The school plans to add a golf team with part of a $100,000 donation announced today at the KitchenAid Senior PGA Championship at Harbor Shores. Championship director Ryan Ogle says the donation is in addition to nearly three-quarters of a million dollars that have been donated to date to youth sports programs in the area.
"These dollars will go toward building facilities and equipment for the city and the school, as well as start new programs like the golf team," said Ogle.
Benton Harbor High School football coach Elliot Uzelac tells WSJM News "it's going to help a lot. Obviously we're a struggling community, and we don't have a very large endowment plan so to speak. Our athletic program needs any financial help that we can get." Uzelac added that KitchenAid's parent company, Benton Harbor-based Whirlpool, has been very important for the schools and Tiger athletics. "Without Whirlpool, we wouldn't have a football program like we have today. We got more money this year for other sports and want to start a golf team, and I think this is really going to help our men's and women's programs." Uzelac said several of his football players are volunteering at the KitchenAid Senior PGA Championship, and he's looking forward to talking to them about the new experience.
Benton Harbor Area Schools school board president Marletta Seats, Mayor Marcus Muhammad, Uzelac, and Benton Charter Township Supervisor Kevin White were on hand at the Host Communities Breakfast at Harbor Shores to accept the grant.