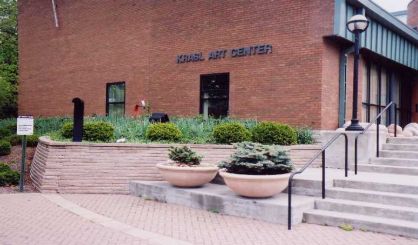 The Krasl Art Center has installed a new sculpture in Benton Harbor's Arts District this week as part of the center's Biennial Sculpture Invitational. Krasl Deputy Director Tami Miller tells WSJM News "Eve's Awareness" by Terry Hewlett replaces "Eve and the Serpent," a sculpture that's being removed due to complaints. The new one is more family friendly.
"It's an abstract work, about three feet tall, painted metal steel," Miller said. "There is a circular form and then an abstract form that pierced through it. It's about purity."
Miller told Benton Harbor City Commissioners this week Krasl got permission to install sculptures at Water Street and Fifth Street every other year as part of the Sculpture Invitational back in 2012. Since then, city leadership has changed, and so she invited commissioners to get involved in the selection moving forward. In all, Krasl has public art installed at 25 locations around Benton Harbor and St. Joseph this summer.