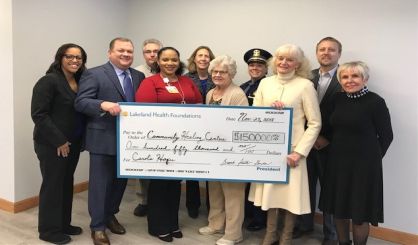 A $150,000 donation from Lakeland Health Foundations will help to start up a new center in southwest Michigan for those suffering from a substance abuse problem. Lakeland Vice President of Quality Kendall Troyer tells WSJM News Carol's Hope will help connect those who are struggling with existing services in the area.
"There will be someone there to talk with them, take what we call a recovery inventory, and help them connect with their next step in the recovery process," Troyer said.
Troyer says the new center will be an alternative to emergency care for someone who needs to beat an addiction but doesn't know where to turn. Carol's Hope is named for Carol Stockman, who helped found the Voice, Change, Hope Alliance.
"Their mission and vision is to reduce the stigma of addiction in our community to make people more open to seeking treatment," Troyer said.
Troyer says the center will offer free guidance to those seeking treatment, staffed with state-certified coaches. A grand opening at the facility on M-139 next to True Value Hardware will be December 12.