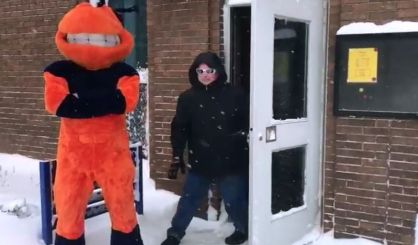 Bridgman Public Schools has gotten in on the craze of turning snow days into viral celebrations. F.C. Reed Middle School Principal John Truesdell passed along a video to us this week featuring a Bridgman Bee mascot engaging in antics around the district to the tune of "Another One Bites the Dust." The video suggests ways to pass the time during a snow day.
The video crashed the school district's Google Drive. Truesdell says it got about 2,300 views in a few hours. The video was also posted to YouTube. Bridgman Public Schools, like many others, are closed this Wednesday and Thursday.
Bridgman's video followed another viral snow day video from Lakeshore Middle School Principal Jonathan Swegles on Sunday. Set to Vanilla Ice's "Ice, Ice Baby," it's gotten thousands of views. You can see that video below.