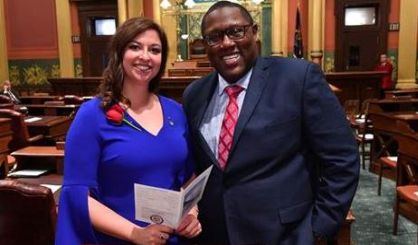 Freshman state Representative Pauline Wendzel says Governor Gretchen Whitmer's first State of the State address had a lot to like, even for Republicans like her.
"It was a very encouraging speech, and I was glad to hear that she touched on a lot of points that I ran on in my campaign, such as infrastructure, lowering auto insurance, CTE, and bettering our education system," Wendzel said.
Wendzel tells WSJM News she didn't hear anything that's a non-starter for her from Governor Whitmer, but thinks there might be a flaw when it comes to ideas on education reform and providing debt-free community college for all or two-years at a four-year college or university debt-free.
"We're behind on our third grade reading levels, but she wants to provide free college for everybody who graduates with a B average," Wendzel said. "That's already eliminating a lot of our students. If they're already behind in the third grade, they're not going to graduate, or if they do graduate, they're not going to graduate with a B average. So, that is lacking in major details."
She, like other Republicans, wanted to get some details from Whitmer about how she plans to pay for fixing the roads, but everyone will have to wait for that until the budget proposal comes out in March. Meanwhile, state Senator Aric Nesbitt of Lawton says the address was a little short on details on Governor Whitmer's plans, but he's overall optimistic that the bipartisan tone can win out.
"There might be too much taxing, too much regulating, too much spending," Nesbitt said. "However, I'm looking forward to working with her on lowering the cost of auto insurance, working to make sure that we have a sustainable plan to rebuild our roads, and making the government work for the people."
Nesbitt said he'll wait on the governor's budget proposal for details on how to pay for road funding, and that increasing taxes or fees is a non-starter. Also a bit disappointed by a lack of details was state Representative Beth Griffin. The Mattawan Republican tells WSJM News she wanted to hear the governor talk auto insurance reform.
"I was just disappointed because I was waiting to hear about it, waiting to hear about what she's going to do or if she's going to prioritize it, and I think I literally counted and I think there were only seven seconds in the whole-over-an-hour speech spent on auto no fault, and there was no plan for anything," Griffin said.
Griffin said she was pleased by talk about increasing career and technical education and helping adults find new training. Overall, Griffin says there are things she can work with the governor on, and she looks forward to the opportunity.
Pictured: State Rep. Pauline Wendzel, of Watervliet, attends the Governor's annual State of the State Address with her guest, Jerry Price. Price is the manager of Diversity and Inclusion at Spectrum Health Lakeland in Saint Joseph.