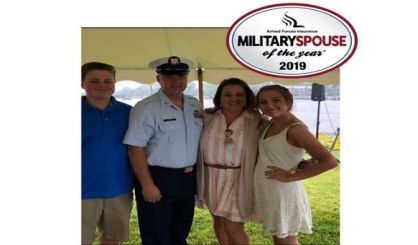 A St. Joseph woman has been named the United States Coast Guard District 9 Spouse of the Year by Armed Forces Insurance, putting her in line to be named the national Military Spouse of the Year. Valerie Gehrke works in healthcare, and her husband, Jeff, is stationed with the Coast Guard in St. Joe. She tells WSJM News her family has been in the area for about four years now.
"We came from Kittery, Maine to here," Gehrke. "He was aboard a cutter that deployed for a pretty extensive time before coming here. We've moved around about every three to four years since he's been in."
Gehrke was nominated for Coast Guard Spouse of the Year due to her work to help Coast Guard families moving to the area.
"Most of our members were coming from all over the place," Gehrke said. "It's kind of a hard area to find housing rentals. I've been able to secure some housing rentals for families."
Gehrke also helps those families get their kids enrolled in local schools, and she was the point of contact for those who wanted to make donations to Coast Guard personnel not getting paid during the recent partial government shutdown. She tells us she just grew up in a family that valued helping people. The Coast Guard Spouse of the Year will be announced Friday, and the Military Spouse of the Year will be announced in May.