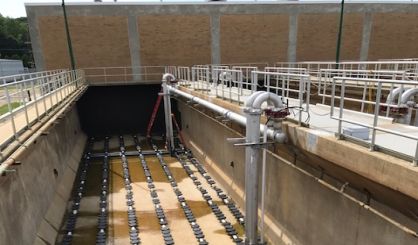 The Benton Harbor-St. Joseph Joint Wastewater Treatment Plant has received a $42,000 rebate from Indiana Michigan Power for its efforts to increase energy efficiency. Plant Manager Tim Lynch tells WSJM News the plant in November completed the installation of some new equipment.
"We installed a new turbo compressor, which is like a turbo blower," Lynch said. "It provides air to our aeration system, and it's high technology, very energy efficient. Along with that turbo compressor, we also installed some fine bubble diffusers in the aeration tanks."
Lynch says that equipment will save around $10,000 to $15,000 per month on electricity, reducing the plant's power consumption by 20 to 30%. The project cost around $1.3 million, and Lynch says even without the I&M rebate, it would eventually have paid for itself. Other work was done to improve the efficiency of lighting at the plant. Lynch says the ultimate goal is to make the wastewater treatment plant energy neutral.