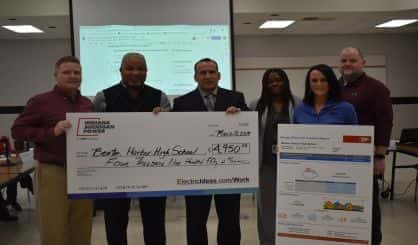 A recent project to increase energy efficiency at Benton Harbor Area Schools has resulted in a rebate of just under $5,000 being awarded to the district by Indiana Michigan Power. At this week's district CEO meeting, I&M's Jason Whitman said the schools replaced 250 light fixtures to house efficient LED lighting.
"You were able to save 114,000 KWH of annual savings just from the 250 fixtures that were taken care of with this project, and I know that there's more slated," Whitman said.
Those 114,000 kilowatt hours saved per year represent about enough electricity to power 14 homes. I&M presented a ceremonial rebate check to the school district at Tuesday's meeting.