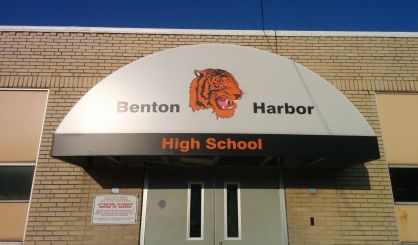 Benton Harbor Area Schools CEO Robert Herrera says an update on the high school graduation numbers for this year will be given to the board of education next month. At this past week's CEO Meeting, Herrera said board members will get a presentation on what's been done since last month when he announced only 38 high school seniors out of 138 were on track to graduate this year.
"We've made a lot of changes to student schedules, and we just finished up our third marking period just this last week, maybe a week prior, so I've been waiting for the results to see how the students scored on those, and then maybe we can give you a more accurate update," Herrera told WSJM News.
Herrera said he's confident at this point there will be an increase of 15 or 20. He said other students will be able to work toward GEDs or graduation in the next year. Also Tuesday, Herrera said the district's transformation plan will be mailed to the public next week. While Herrera says much has been done with curriculum and achievement this year, the transformation plan for next year will involve budgeting.
"From a community perspective and from a board perspective, one of the bigger challenges now is how to manage the deficit and what that's going to mean to the district in the future, so strategically that's something we're really going to have to gear up for next year," Herrera said.
Also Tuesday, Herrera heard about a new fire protection system being purchased for the high school at a cost of $320,000. The district COO said the building currently has two systems that don't communicate with each other. The purchase is being paid for with district's gang prevention grant and sinking funds.