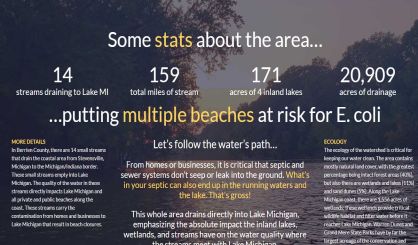 The Southwest Michigan Planning Commission has launched a new website to draw attention to the issue of contamination in creeks throughout the southern half of Berrien County. Senior planner Marcy Hamilton tells WSJM News BetterBeachesSWMI.org is intended to raise awareness of how residents pollute creeks that go into Lake Michigan. Hamilton says a study of creeks from Stevensville to the state line found problems.
"In these tributaries, most of them, the biggest pollution problem that we found was around E-coli or bacteria levels that were high," Hamilton said.
Hamilton says they studied 14 creeks, including Deer Creek and Sawyer Creek, and a common source of the E-coli was found.
"In comes often times from failing septic systems or a lack of a septic system, where people tie their sanitary sewer waste into storm drains or into ditches without being treated. And also from sanitary sewer infrastructure that wither has failed or has cracks in it."
Hamilton says everyone with a septic system should have it checked by a professional on a regular basis. She says E-coli winds up in Lake Michigan from the creeks. The new website will be updated with articles, events, breaking news, opportunities for public engagement, and original content to help work toward cleaner waterways.