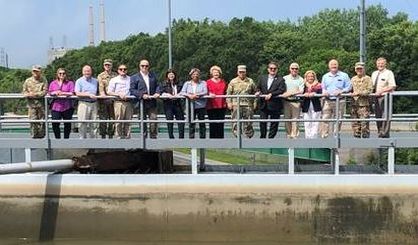 Congressman Fred Upton wants to get to work soon on securing federal funds to allow the U.S. Army Corps of Engineers to fully implement its recently-completed plan to stop the Asian carp from getting into Lake Michigan. Upton visited the Brandon Road Lock and Dam in Joliet, Illinois this week to check out the key choke point for stopping the invasive fish. He tells WSJM News the delegation that went now has to take action.
"Our next stage is I think you'll see the Great Lakes Caucus, a bi-partisan caucus, get together in the next two weeks o so, and we'll present the information that we learned to them, and hopefully provide the funds through the appropriations process to speed this up," Upton said.
Upton says the Army Corps estimates the Asian carp has been kept a few miles from the Brandon Road facility thanks to its current efforts. However, he says it's critical the carp be kept at bay for the long-term. Otherwise, it could overrun the Great Lakes, wiping out major industries. The Army Corps plan released in May suggests technologies that include an engineered channel, an air bubble curtain, an acoustic fish deterrent, and an electric barrier.