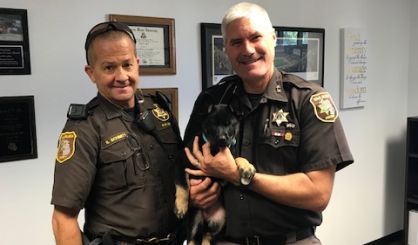 You can help Van Buren County Sheriff Dan Abbott pick the name of the department's new K-9 officer. The eight-week-old German Shepherd is being trained by Deputy Scott Schmitt, who will be her handler. Abbott says he's between Kimber and Aspen.
"I'm going to put it out on my Facebook page because there's a big following on that," Abbott tells WSJM News. "I will let the community members decide what they want this dog named."
The dog is meant to be a public relations asset and will be used for community appearances and school visits, but Abbott says she will also be trained in narcotics detection, including marijuana.
"Since the marijuana law came into effect, a lot of law enforcement agencies aren't training canines anymore to hit on marijuana. However, I did want a specific marijuana dog at our office because we do a lot of assistance to the local schools and school districts," adds Abbott.
The puppy came from a local kennel that breeds canines for police use.