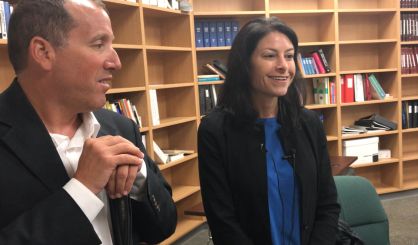 Michigan Attorney General Dana Nessel is in the middle of a 12-stop tour around the state hearing experiences of elder abuse. She and state Supreme Court Justice Richard Bernstein were at the Berrien County Health Department Monday morning for the third such session.
"By going to every corner of this state, we learn as much as we possibly can so that we know that we're doing the right thing as we move forward as we move forward in order to try to fill these initiatives and to try to provide the very best solutions we can to the problems that are facing seniors all around the state," said Nessel.
Justice Bernstein says elder abuse, which is often either physical abuse, neglect, or financial exploitation, is a much bigger problem than many have thought.
"This is something that affects literally everyone," said Bernstein. "Either themselves, someone in their family, or someone they know. This is one of those issues where we can make a difference for literally everybody."
Berrien County Treasurer Bret Witkowski applauds their efforts, telling WSJM News he sees evidence of senior being abused financially almost every week. He says one issue he has, however, is the state is looking at reviewing conservators in charge of the finances of elderly residents every three years, which he says isn't enough.
"In Michigan, the law says after three years (of not paying property taxes), your house is foreclosed on. So it needs to be followed up, I think, every year," Witkowski said. "
Nessel and Justice Megan Cavanagh will be in Kalamazoo on Tuesday for the fourth listening session. The Attorney General and the two justices established the Michigan Elder Abuse Task Force earlier this year.