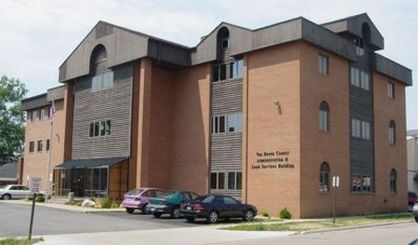 The Van Buren County Board of Commissioners is poised to approve a request from the local county judges to cover up a couple of murals at the courthouse that depict topless women. The committee of the whole on Tuesday signed off on the request from Van Buren County Chief Circuit Court Judge Kathleen Brickley to hide the murals, which have been there for many decades.
Van Buren County Administrator John Faul tells WSJM News the murals feature mythological depictions of justice, which involve topless women. In a letter also signed by the other county judges, Judge Brickley writes the murals "do not depict the attributes of patience, dignity, civility, and adherence to the rule of law that are so deeply rooted in our judicial system. To the contrary, they depict justice being metered out with swords and spears through beheadings and through a humiliation marked by naked begging on bended knee."
Faul tells us out of respect, it's time those images be covered up. The county board is expected to authorize the purchase of a drape for the mural in a courtroom, and a county seal to cover a mural at the republic rotunda stairwell. Faul says they're expected to cost about $1,500.
Faul adds because the building is historic, the county commission doesn't want to remove the artwork or to paint over it. The murals were first accepted by the Paw Paw Village Council from local artist Frank Lewis Van Ness in 1908. Judge Brickley has recommended looking into the possibility of moving the pieces to a museum.