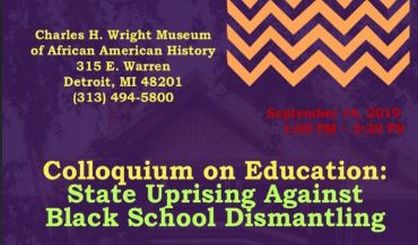 There will be a symposium this weekend in Detroit for supporters of predominantly black school districts in Michigan to talk about the fight to keep those schools open. "Fighting Back Against the Dismantling of Predominately Black School Districts" will feature a panel discussion with experts from communities all across Michigan, including visitors from Benton Harbor, Inkster, Albion, and Highland Park. Organizer Thomas Pedroni, a professor at Wayne State University, tells WSJM News he wants everyone to share their experiences, but also come out with recommendations to prevent school closings.
"This will be a time to sort of recognize that there's a common cause, and to try to stake out an agenda that says, look, it's not just local management that produces things like this," Pedroni said. "There are policy mechanisms like Proposal A, districts of choice, the charter law, accountability systems, and also misguided notions of African American capacity to govern districts, frankly."
The Benton Harbor panelist will be attorney Elizabeth McCree. The symposium will be held at the Charles H. Wright Museum of African American History in Detroit on Saturday starting at 1 p.m. and Pedroni says everyone is welcome. The event will also be livestreamed right here. You can find the event's Facebook page right here.