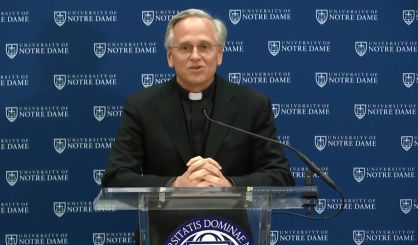 The first debate of the 2020 presidential election will be in our area. The University of Notre Dame will host the debate between President Trump and the Democratic presidential nominee. University president Father John Jenkins made the announcement today, saying the debate will be September 29, 2020.
"Politics have been taken over by tweets and by slogans, and we need to engage seriously about serious topics from across the political spectrum," said Father Jenkins. "That is always what Notre Dame has stood for."
Jenkins called debates "sacred moments" in democracy. He says the debate will be in the Joyce Center, and will require elaborate security for the basketball arena. Jenkins says they haven't yet made decisions on how tickets will be distributed, noting Notre Dame will only have a limited number. The other two debates between the presidential candidates will be October 15 2020 at the University of Michigan and October 22 2020 at Belmont University in Nashville, Tennessee. The Commission on Presidential Debates says the vice presidential debate will be held on October 7 next year at the University of Utah in Salt Lake City.