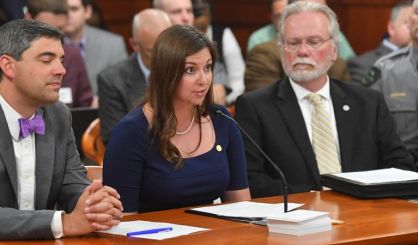 Bipartisan legislation to update the state's commercial fishing laws and regulations is headed to the Michigan Senate. Representative Pauline Wendzel of Watervliet sponsored one of the bills in the package, and says this would be the first update in 60 years to the laws regarding commercial fishing operations. When the bills had a hearing in June before the House Natural Resources Committee, Wendzel testified they would create a list of all the species of fish available for commercial harvest.
"The director of the DNR would be able to add species to this commercial fishing list, as long as they are not on the game species list," testified Wendzel. "Having this list of species that commercial fishers can only harvest will protect our sport fishing industry."
At the same hearing, DNR fisheries director Jim Dexter told lawmakers the current fines and penalties were put in place in 1929, with a maximum fine of just $100 for those commercial operations who exceed their limit.
The bills passed the House this week. Wendzel says the current laws regarding commercial fishing operations are "antiquated," "unenforceable, and fail to establish best practices when it comes to harvesting fish in the Great Lakes. There are 33 commercial fishing operations in the Great Lakes, with six operating in Lake Michigan.