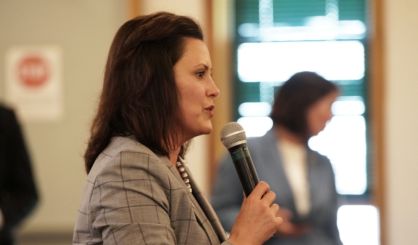 With her proposed Fiscal Year 2021 budget now in the hands of state lawmakers, Governor Gretchen Whitmer spent some of her Friday in Detroit, speaking to the Detroit Economic Club at the TCF Center. The nearly $62 billion budget proposal increases education spending, puts more money into making sure all Michigan residents have healthcare, and spends money on road fixes.
"These are the 'dinner table issues' that I hear from all across our state," said Whitmer. "So coupled with the Rebuilding Michigan Plan, we are moving forward on an agenda that is really geared toward helping families, and helping businesses, be successful here in Michigan."
Whitmer explained why she went with the Rebuilding Michigan Plan, borrowing $3.5 billion through the sale of bonds instead of raising taxes or shifting around other state spending to fix Michigan's roads.
"Our number-one priority is the safety of our citizens. Right now, our infrastructure is dangerous, and this gives us the ability to start reconstructing roads now."
Critics of the road bonding say the plan only addresses state roads and leaves out local roads, which make up for around 75% of what we drive on. The State Transportation Commission approved her plan shortly after it was announced during last month's State of the State address.