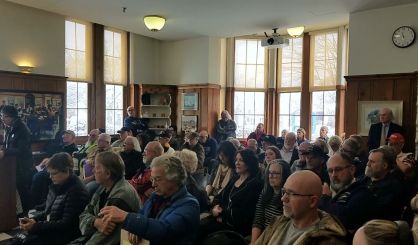 After several weeks of hearing public comments on both sides of the issue, the Berrien County Board of Commissioners has opted not to approve a resolution declaring Berrien a Second Amendment Sanctuary County. At a Thursday meeting, the board heard plenty about the proposed resolution.
"Our guns are our guns," a supporter of the resolution said. "We're here to support our property and our rights."
Thursday's meeting featured public comments similar to last week's meeting.
"I don't see and understand why we have a primacy on the Second Amendment, and I do believe that what we need to do is step back," said a resolution opponent.
The requested resolution not only included the sanctuary language, but also said the board "affirms its support for the Berrien County Sheriff and the Berrien County Prosecuting Attorney, in the exercise of their sound discretion to not enforce against any citizen an unconstitutional firearms law." Berrien County Prosecutor Michael Sepic told the board it's up to the courts to decide what's constitutional.
"What this resolution is calling on you to do is disregard the fact that we've all agreed that the courts make constitutional decisions," Sepic said.
In the end, the board approved a resolution only reaffirming each commissioner's oath of office and reaffirming the board's support for the Bill of Rights and Constitution of the United States. Chair Mac Elliot told WSJM News more about why the original submitted resolution was not approved.
"From the outset, I don't believe there was any interest on the board in going forward with that resolution," Elliott said. "One of the commissioners did sponsor it today, and it did not receive a second, so that resolution died. But from the outset, the word 'sanctuary' has been problematic."
Elliott said the sheriff and the prosecutor also take an oath of office, and don't need the county board telling them how to do their jobs. During Thursday's meeting, a motion from Commissioner Dave Vollrath to approve the original sanctuary resolution got no support. An alternative resolution declaring Berrien a "Second Amendment Constitutional County" also got no support.