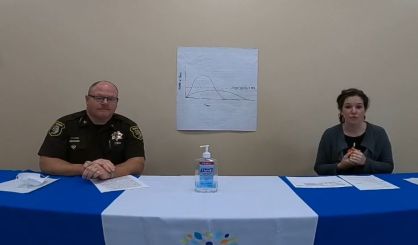 Officials in Berrien County are asking everyone to continue social distancing and staying home when possible during the COVID-19 pandemic. During a Friday update, Berrien County Health Officer Nicki Britten said the measures that have been taken so far have kept the curve flat, at least locally.
"It may still have the same number of people that become ill, but it's over a prolonged period of time, and the number of people who are ill at any given time can be cared for in the hospital within their capacity," Britten said.
Berrien County Undersheriff Chuck Heit said police in the area continue to enforce the stay home order. He also noted the more recent rules require everyone who enters a food selling establishment — that mean grocery stores — to wear a face covering.
"Unlike the previous Stay Home, Stay Safe order, this protective action order is not exempt from penalty," Heit said. "It is subject to a misdemeanor if willfully violated."
Heit said Berrien County has extended its emergency declaration for the rest of May to keep resources available. While the stay home order remains in effect around Michigan, Britten noted the state will eventually have to reopen. When it does, she appeals for everyone to continue following social distancing and to wear masks.