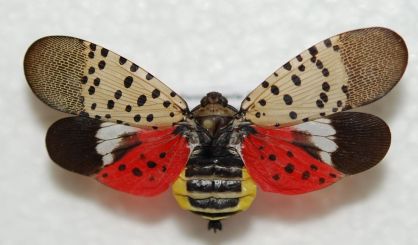 The Michigan Department of Agriculture and Rural Development is asking the public to be on the lookout for a new invasive insect that has the potential to devastate the state's agriculture and natural resources. Spokesperson Jennifer Holton tells WSJM News the spotted lanternfly has not yet been found in Michigan, and the state wants to keep it that way.
"It can have the potential to damage or kill more than 70 varieties of crops and plants, including grapes, apples, hops, hardwood trees" Holton said. "It really could impact the grapes the most, but the damage it could do to apples and other crops in our fruit belt is pretty great."
The bug causes direct damage by sucking sap from host plants and secreting large amounts of a sugar-rich, sticky liquid called honeydew. Holton says the signs of the spotted lanternfly include egg masses that resemble old chewing gum with a gray, waxy coating. Holton says everyone's reminded not to transport firewood. If you see a spotted lanternfly, notify the state AG department.