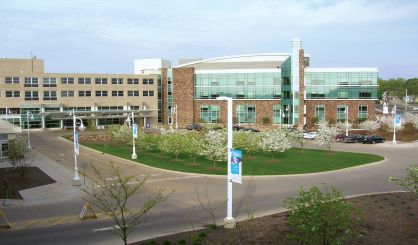 Spectrum Health Lakeland has been relaxing visitation rules as the hospital gets a better handle on COVID-19 transmission. CEO Loren Hamel says as management looked at how transmission of coronavirus is happening and considered the importance of allowing visitors to patients, the decision was made to alter the policy.
"Just like students don't do well with social isolation, nor do sick patients," Hamel said. "It is so important to have family around. We have to do it safely and carefully. But the more we learn about the transmission within hospitals, the more we comfortable that we can control that risk pretty well."
Hamel says within the COVID unit at Spectrum Health Lakeland, they noticed when diligence was followed in regards to masks and hygiene, transmission was limited.
"If we're careful, if we're diligent, if we maintain hand hygiene and masks and social isolation, you can control those risks a lot, and I think the benefits of that visitation far outweigh the risks."
Hamel also noted Spectrum Health as a whole is processing around 4,000 COVID tests each day, getting results in a day or two. He urged everyone to continue being cautious, saying as long as safe practices are followed, the spread of COVID-19 can be kept at a minimum.
Comments