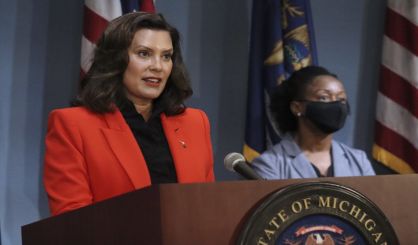 Governor Gretchen Whitmer is calling on the federal government to step up to help beat COVID-19 and to help Americans who are out of work. During a COVID update Tuesday, Whitmer said there should be a federal mask mandate, noting President Trump said this month on Twitter that wearing a mask is patriotic.
"I applaud his statement and urge him to embrace a nationwide mask order," Whitmer said. "Back up that statement and let's take action. We need to require masks on public transport, indoors and outdoors when six feet of distance can't be maintained."
Whitmer said the coronavirus relief package being worked on by the U.S. Senate is not enough. She takes issue with the aid it gives to schools.
"The proposal that came out of D.C. yesterday ties critical funding to our schools, critical funding for the education of our kids, to reopening plans. It makes it contingent on that."
Whitmer said whether or not schools can re-open this fall still isn't known, and that decision will be guided by science. She also said the Senate aid package includes inadequate unemployment benefits that would take months to implement, harming those who are struggling. She called on the Senate to work with the House to approve an aid package that helps states and individuals.
Comments