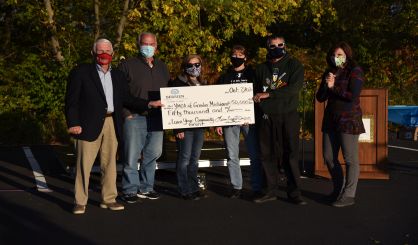 The Berrien Community Foundation this week announced $175,000 in grants to local organizations at its 68th Annual Meeting and Celebration. Held in the parking lot of the Mendel Center at Lake Michigan College, BCF President Lisa Cripps-Downey tells WSJM News the event celebrated all of the organizations accomplishments during 2020. They've done much to support the community through COVID.
"We partnered with the community for the Southwest Michigan Cares Fund, and with our wonderful partners at the United Way, we've given out almost $600,000," Cripps-Downey said.
Cripps-Downey says the fund has raised more than $1 million, which is now being used to help people stay in their homes. During Wednesday's event, the BCF announced the recipient of the three-year, $75,000 Alamar Non-Profit Sustainability Grant.
"That went to Neighbor by Neighbor, a non-profit that focuses on connecting residents of Harbor Country and beyond Harbor Country with basic resources and services for immediate needs, and then helping them toward greater self-sufficiency."
The $50,000 Stephen E. Upton Love Your Community Grant was presented to YMCA of Greater Michiana, and the 2020 Golden Acorn Excellence Award went to Meals on Wheels of Southwest Michigan. Cripps-Downey says the Golden Acorn Award for Volunteerism went to Traci Burton and M'Shannon Rockette for their work to promote the census.
Comments