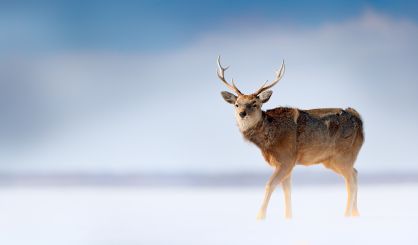 Firearm deer hunting season is here. It starts Sunday and will run through the end of November. Michigan Department of Natural Resources conservation officer Travis Dragomer is stationed in Berrien County, and tells WSJM News with a possible record number of licenses being issued this year, you can expect to see some hunter orange at local recreation areas.
"You've got somebody in the woods hunting, and you also have people out walking and enjoying the weather and the park," Dragomer said. "So if you do go out for walks at Grand Mere or Warren Dunes, be aware that there probably are hunters out there."
Dragomer says hikers may want to wear orange as well. He notes one of the biggest hunting violations is baiting.
"We're getting a lot of calls about people baiting. Anywhere from one mineral block to a ton of apples dumped in a field or a ton of sugar beets, or whatever it is."
Dragomer says some hunters still struggle with not being allowed to bait. Another common violation is trespassing. You have to get a property owner's permission before going on to their land. The most serious rule violation Dragomer sees is poaching, with hunters shooting deer from their vehicles when they happen to spot them on the side of the road. He says not only is that illegal, but it could be depriving a legitimate hunter a deer that they've been tracking. He also urges all hunters to treat all guns as though they are loaded and keep the muzzle pointed in a safe direction.