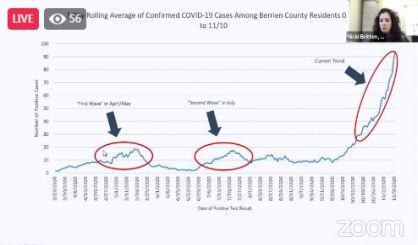 The Berrien County Health Department and Spectrum Health Lakeland are warning about the rapid increase in local COVID cases this fall. Speaking Friday, Berrien County Health Officer Nicki Britten said our current numbers dwarf what we were seeing in the spring.
"We are now exceeding an average of 100 new cases per day in Berrien County," Britten said.
And this isn't just because there are more tests being done.
"We've seen a five fold increase in our percent positivity, we've seen a three fold increase in hospitalization rates, and we've only seen a one and a half fold increase in our testing."
Britten said the county is now doing about 850 to 900 tests per day. Spectrum Health Lakeland CEO Loren Hamel said while the hospital in St. Joseph is meeting demand, that will change if things continue on their current path.
"We're expecting staffing challenges very soon, and space probably a week or two later," Hamel said.
Hamel said Spectrum Health Lakeland will soon have to move resources for non-COVID healthcare needs to COVID patients if things don't improve. He and Britten stressed the need for continued masking, distancing, and sanitation. They said people getting together in groups is the biggest problem as much asymptomatic transmission happens that way.
Comments