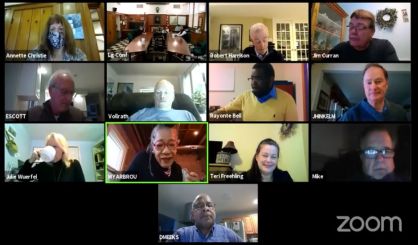 The Berrien County Board of Commissioners has held its organizational meeting for the year, laying out the framework for how it will conduct business in 2021. First up at Thursday's meeting was the appointment of a chair for the board. Commissioner Jim Curran moved to name Mac Elliott the chair again. Curran was backed by Commissioner Mamie Yarbrough, and the vote was unanimous, with Chair Elliott himself abstaining. Commissioner Ezra Scott was unanimously voted in as vice chair. As the 2021 meeting schedule was laid out, Scott said he'd like to leave room for some meetings at night this year.
"We don't have to schedule that now, but I would like the board members to at least think about that because I have heard a lot of people want to see our board meetings and what we do and be able to react via YouTube," Scott said.
Elliott said he thinks it is possible the board will be able to hold some night meetings in different locations around the county this year if all goes well with the COVID vaccine. He suggested a list of possible dates and locations could be drafted later. The board's two new commissioners, Rayonte Bell and Julie Wuerfel, also got their committee assignments Thursday. Bell will sit on the Personnel Committee, while Wuerfel will serve on the Administration Committee.
Comments