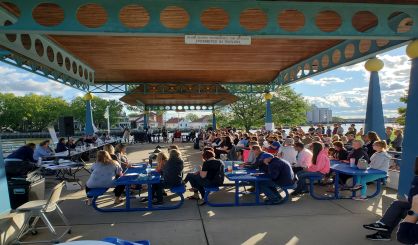 Following a lengthy meeting Thursday during which dozens of people spoke out against the county's mask mandate for schools, the Berrien County Board of Commissioners is slated to reconsider a resolution it approved on August 26 expressing its support for the county health department's COVID-19 mitigation practices. Nearly three hours of public comments were taken during Thursday's commission meeting, most of them in opposition to a mask rule in schools. Commissioner Ezra Scott said he'll have a proposal at next week's meeting.
"I'm just going to introduce a resolution to rescind the past resolution that we did on the 26th," Scott told WSJM News.
That resolution, which came about a week before the county's mask mandate was issued by the Berrien County Health Department, stated "the Berrien County Board of Commissioners supports the Berrien County Health Department and our local public health officials in their continued response to the COVID-19 pandemic and in protecting the health and well being of the residents of Berrien County." Scott told us the board did not intend for the resolution to support a mask rule.
"My mind's already been made up. I'm not in favor of a mask mandate under any purpose right now because the numbers aren't there."
Commissioners who spoke at Thursday's meeting mostly expressed opposition to a countywide mask mandate for schools. Chair Mac Elliott told us he believes it should be up to the individual districts and their parents. Commissioner Julie Wuerfel had some words for interim Health Officer Courtney Davis, complaining Davis has not answered her questions and was not present for this week's meeting. Wuerfel said she would go one further than Scott's resolution and call for a no confidence resolution, although she didn't specify if it would be for Davis or the overall Berrien County Health Department. Elliott did tell the crowd the commission lacks the authority to undo a health department order.
Comments