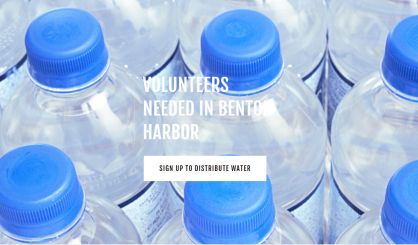 As bottled water is given to residents of Benton Harbor during an effort to replace lead water service lines around the city, volunteers are needed. The United Way of Southwest Michigan's Debbie Ramirez tells WSJM News the Southwest Michigan Community Action Agency is distributing the water with events each Wednesday and Thursday at its warehouse on Miller Street in Benton Harbor. It's a challenge to get enough people to help.
"Knowing that this is going to be something that's ongoing, potentially taxing the volunteer bases for some of these agencies like SMCAA and others, we just know that we need a ton of volunteers, and it's going to take a community-wide effort to keep this going and to make sure that the residents of the city of Benton Harbor have safe, clean drinking water, and water that they can use for other things, every day," Ramirez said.
Ramirez says the volunteers load cases of water into vehicles in a drive through format, making the work physically intense. They need about 20 volunteers per shift. You can sign up at UWSM.org. That's also where information on bottled water pickup sites is posted.